Day Centre - Eccleshare Court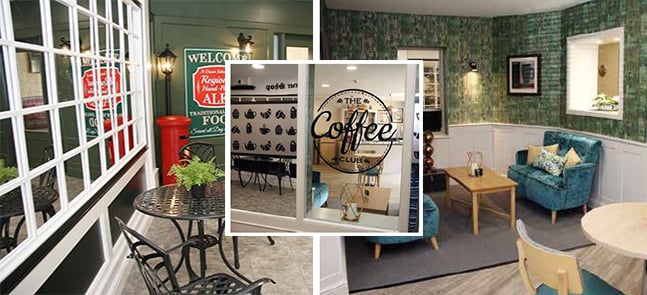 A state of the art Day Centre with an indoor outside street offering a pub, coffee shop, salon and nail spa as well as a family room and activity room. The day centre provides support for older people and people living with dementia, giving service users the opportunity to have fun and socialise with other people whilst ensuring their safety and wellbeing.
Age UK Lincoln & South Lincolnshire manages a state of the art Day Centre for the people of Lincoln and South Lincolnshire.
Our brand new refurbished Day Centre opened at Eccleshare Court in July. Located as part of Eccleshare Court Care Home run by County Court Care this unique facility offers a range of new innovative spaces for our day centre customer of Eccleshare Court.
Eccleshare Day Centre: Opportunity to join in, have fun, maintain independence, make new friends in a caring and supportive environment.
Our experienced and trained staff are on hand to provide high quality support and care that reflect your wishes and your specific needs.
We work in partnership with Dial A Ride to bring you to our centre from your home (within 6 mile radius of Lincoln).
We understand that good nutrition is important to our clients and provide a varied and tasty three course meal each day; our daily menus offer choice to meet individual preferences and change to reflect the changing seasons. We are currently the proud recipients of the Health Nutrition Award from the Lincolnshire Care Awards 2018.
Maintaining our physical and mental wellbeing is important. At Eccleshare, we provide a range of fun, and stimulating mental and physical activities that are geared to reflect your individual preferences, skills and to introduce new opportunities and experiences.
We provide regular seated exercise and sport opportunities through professionally trained sport coaches at Move it Mobility. If you enjoy dance-we have regular dance and movement sessions through local dance company Rhythm in Movement. We have New Age Kurling, carpet bowls, skittles, mini golf, plus Intendo Wii sports amongst many others on offer daily for you to try.
Singing is a joy for many of our clients and as such we have a regular singing opportunities for those who enjoy this and wish to become involved in our developing 'choir'.
We regularly have word game quizzes such as Countdown, Scrabble, Boggle for those who like a mental challenge; along with daily opportunity to play board games such as dominoes and drafts.
Expressing creativity is important so we have regular cooking sessions, flower arranging, art and craft on offer.
Nature and environment: we have access to a beautiful self contained garden space at Eccleshare. We use this space for our activities whenever the weather is right. Our gardening group have the opportunity to help in the garden with planting and maintenance whenever possible.
Live entertainment: we endeavour to provide regular opportunities to enjoy live entertainment. We are regularly visited by our local choir (Birchwood Sings) and local singers and entertainers.
Shared reading. We are visited regularly by the charity the Reader to provide opportunity for clients hear excerpts from plays, books and poetry and a platform to discuss themes and issues raised.
Getting in touch: Ring Eccleshare Day Centre Coordinator 01522 684863 to arrange a look around or trial day.
Location: Eccleshare Day Centre, Ashby Avenue, Birchwood, LN6 0ED.
Eccleshare Court has now been awarded a 5* Hygiene award.
This acknowledgement is reflective of the excellent standards of care delivered at our day centre.