Day Services | The Capstone Centre
The Capstone Day Centre opened in April 2013. The Capstone team offer a specialist day service to anyone with a diagnosis through all stages of their dementia. The Capstone centre offers support for people in the following postcodes; ME1, ME2, ME3, ME4 & ME5
At the Capstone Centre we offer a care through activities which range from cookery, arts and crafts, reminiscing, wood and paper crafts, to cake making and more, with each activity being person centred. The ethos of the centre and staff is to understand the person with dementia and their needs, which is achieved in a non-medical environment that is both safe and stimulating.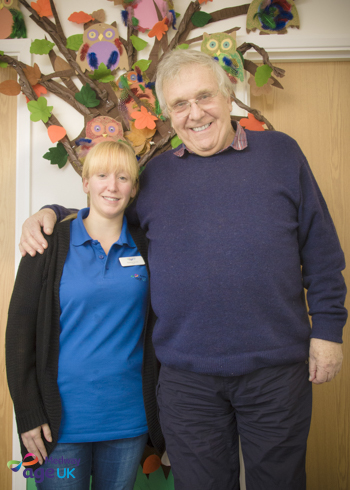 At Age UK Medway, we understand the impact that dementia can have, not only on the person with a diagnosis of dementia but their family and carers as well. The Capstone Centre provides an opportunity for a day of respite for the family and carers of the person with dementia. This enables the family and carers to continue their day to day routine, without the concern of their loved ones welfare.
Our main objective is to reduce the isolation that many people with dementia feel when friends and neighbours stop calling or coming over to visit. This in turn can lead to social isolation which can sometimes lead to depression and lack of self-worth. We often see an improvement in a person's self-confidence by encouraging the continuation of the daily living skills that would otherwise be lost.
In 2015 during the Christmas period we held a family tea party with a performance from the Capstone Choir who sang carols. Many visitors were visibly moved from the level of engagement our clients got from singing, with many thinking they would never see Mum or Dad sing again.
The Capstone Centre has recently made a successful bid for a lottery grant application, this has enabled us to provide twenty first century care which has been achieved with the purchase of an interactive reminiscing unit, alongside the existing frameworks that were already in place.
Alongside the unit's ability to provide musical entertainment, it also aids the person with dementia to remember all of the good feelings and emotions associated with well-loved songs. Alongside the musical entertainment there are interactive life stories a reminiscing library containing a vast collection of radio, TV series and shows, famous speeches, musicals, sing along, poetry, photographs and more.
With these resources we're able to create a personalised life history for each person, this in turn informs interactive care planning, and enables personalised collages where each person can upload pictures of family and friends. People are also able to record voice samples of their relatives in order to offer reassurance if that person experiences separation anxiety while in at the day centre. It also holds number of age appropriate games and activities that can be personalised and used during our therapeutic group work.
To get in touch with the Capstone Centre please call 01634 406058.
Additional Information
For more information on our services: