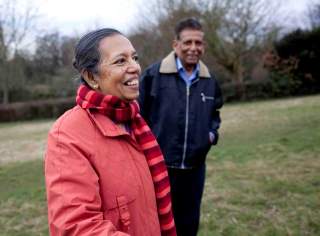 Personalised support to rebuild your life
Have you or a loved one experienced a stroke, are aged 50+, and live in the London Borough of Merton?
Stroke is the third largest cause of death in the UK, and the leading cause of disability in adults. Although advances in medical treatments are enabling more people than ever to survive a stroke, when NHS and Social Services support finishes, there are still large gaps in community services to assist people to make the fullest recovery possible.

Life After Stroke works with anyone aged 50 +, who lives in Merton, and has experienced a stroke at any point during their life. The service aims to support people to enhance their quality of life, through assisting them to be able to continue with their recovery and get back to doing the things they enjoy.

Life After Stroke provides:
Rehabilitation focused support.
Assessment and guidance to help prevent further strokes.
Advice and information for stroke survivors and their families and carers.
If you or someone you know is aged 50+, lives in Merton, and has experienced a stroke at any point in life please call Mary Goodwin, Health Programmes Manager on 020 8648 5792 or email mary@ageukmerton.org.uk.