Tel 01908 550700
Covid-19 update
2/6/20
In line with government advice we had to close all our lunch clubs, the Peartree Memory Clubs and DEGA until further notice. We recognise the devastating effect this will have on many people and are doing our best to provide support where possible.
Please contact us on 01908 550700 to find out what help is available.
Would you like to write a letter that we can send on to an older person to make their day?
Most of the older people who normally go to our Peartree Memory Clubs and Lunch Clubs every week are having to stay at home because of the coronavirus pandemic. They are badly missing their friends and many of them are feeling lonely and isolated. We know that our clients would love to receive a friendly letter and this is how you can help. Find out more.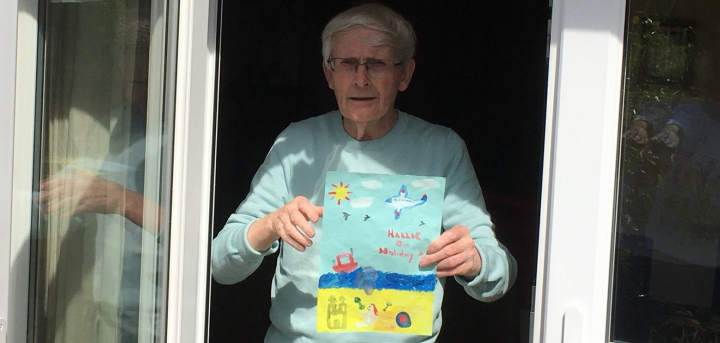 VE Day 75th anniversary
Our amazing volunteer Dick Evans has been busy throughout the lockdown, recording exercise videos and singing routines for his many friends at the Peartree Memory Clubs. We say a huge thank you to Dick (and Rose who does the filming!) and hope you will enjoy the specially recorded VE Day-themed videos below.
A chance for people with memory problems to enjoy social interaction in a friendly supportive environment.
The Peartree Memory Clubs are for people living with dementia, or symptoms of cognitive impairment, who wish to be as self reliant as possible. Carers can have a break whilst the person experiencing dementia or memory-related problems enjoys group activities and good company.
Who is it for?
age 65+
resident in Milton Keynes
diagnosis of dementia
Living independently and able to benefit from social interaction
People are welcome to attend the club for as long as they are able to benefit from it. Inevitably, there will come a time when it is no longer suitable for their needs. The club is run by a co-ordinator and a team of dedicated volunteers.
What is on offer?
We offer stimulating group activities that are enjoyable and help build self confidence. Most sessions end with ten minutes of seated-chair exercises (often to the theme tune of Dad's Army) or a singalong with percussion instruments.
flower arranging, watercolour painting and planting up pots
short mats bowls, mini pool table, board games and puzzles
occasional visits by small animals or professional musicians
wordsearch and reminiscence books.
we also just sit, drink tea and chat.
The clubs have a high ratio of DBS-cleared volunteers to club members. Everyone is given a warm welcome and no one is left to sit on their own without company. The club aims to help members continue to live as well and as positively as possible. If people do not enjoy socialising or taking part in group activities this may not be the right environment for them.
Monday club
£5 per session
Monday 2.00 - 4.00pm
every week
at The Peartree Centre
light refreshements provided
Friday club
£10 per session
Friday 1.30 - 4.30pm
every week
at The Peartree Centre
afternoon tea provided
Transport is not provided
Age UK Milton Keynes is unable to provide transport to the club. Members will need to ask their spouse, relative, friend or neighbour to give them a lift. Or they can come by taxi or catch a local bus. If a person lives near enough they could walk or use their electric buggy to get to The Peartree Centre.
Supporting carers
We hope that carers enjoy a short break while we give the person with dementia the chance to improve their self-esteem by doing something successfully and independently. Carers can spend the time as they wish, knowing that their loved one is being well looked after. We provide a safe, stimulating environment for members of the club as well as support to their carers and relatives.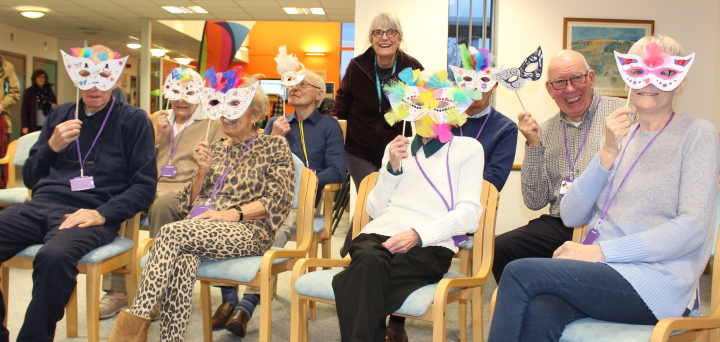 We were joined by club members' carers, friends, relatives and supporters at our Christmas party on Friday 20th December. Everyone was gently encouraged to join in the dancing and enjoy the music with the lovely people from Swing Dance MK.
Other information you may find helpful
Related pages on our website
Related pages on other websites