Support into Employment (BBO)
Covid-19 update
4/1/21
The team is still working and are here to support people who have recently lost their job or been made redundant. We offer support by telephone, email and Facetime and are able to meet clients in person where it is safe to do so. Please get in touch to see how we can help.
Finding work if you have been unemployed or have taken a break for any length of time can be difficult, and a helping hand is always welcome.
Building Better Opportunities is a programme designed to support you if you are currently unemployed, or economically inactive, to find work. We can support you through job clubs or provide one-to-one support to guide you through the job search process - or move into self employment, running your own business.
To enable you to take full advantage of the programme we may be able to cover travel expenses and child care costs, as well as meet the cost of some training.
This project is funded by The National Lottery Community Fund and the European Social Fund.

How do I access the service?
Milton Keynes area
sue.sapwell@ageukmiltonkeynes.org.uk
or call 07756 940 996
Northamptonshire
rebecca.millard@ageukmiltonkeynes.org.uk
or call 07849 087 942
Aylesbury Vale
sue.quinn@ageukmiltonkeynes.org.uk
or call 07715 312 389 (Programme Manager)
We offer
career guidance and CV writing
help with job search
interview skills and mock interviews
support for people who need help developing their IT skills, workshops and one-to-one coaching
Our in house training includes Level 1 Award in Enterprise and Employment Unit, including:
Self confidence and self belief
Communication skills
Presenting yourself for work
Time management
Find a job
Self employment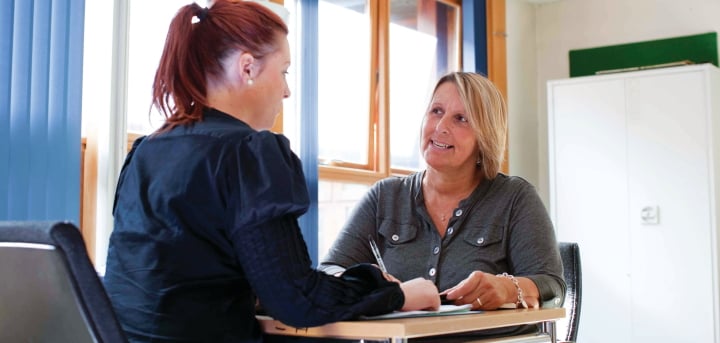 Who is it for?
People aged 50 or over and carers aged 16 or over.
As well as working in Milton Keynes we are also delivering a programme of support in Aylesbury Vale and Northamptonshire.
An example of how we help
Mr A visited The Vineyard Centre in Aylesbury to get a food parcel. He was referred to the Age UK Milton Keynes BBO team as he had been out of work for 12 months, was feeling depressed and this was affecting his health. Also, he had been recently diagnosed with type 2 diabetes.
We arranged for him to have an assessment for fork lift truck training and at the beginning of October 2018 he attended three days of training and passed. When we arrived at the job club the following week we were pleased to see Mr A outside playing 'aeroplanes' with some of the children. He was upbeat and very positive. The following week he called the office to tell us he had a job, a permanent, full-time job.
He has been able to sort out his housing situation and the Housing Trust is happy that he has turned a corner and got his life back on track. This is an example of how Age UK Milton Keynes BBO has built relationships with social housing, training providers and employers to achieve the best outcomes for people aged over 50 looking for work.

From a recent study we know that
the number of people aged 50-64 in the South East and South West is expected to rise by 190,000 between 2017 and 2022, while the number aged 15-49 will have reduced by 50,000
by 2030, half of all adults in the UK will be over 50
More about the service
In the financial year ending March 2019 this service reached over 114 people, supporting 23 people into jobs and 19 into further training and opportunities, successfully over-delivering on our contract.
The Government requirement for people to continue working until they are 67 and the roll out of Universal Credit affects many of our clients. As mental health and physical disabilities are the main barriers to people remaining or getting into work the team has had to offer more emotional support to clients. We have delivered across Milton Keynes, Aylesbury Vale and South Northants, attending job clubs and working in partnership with Vale of Aylesbury Housing Trust and Grand Union Housing.
There has been a rise in the need for more basic skills support for the over 50s, reflecting that when they left school there were more 'blue collar' jobs and the level of English and Maths was not so much of an issue. It is hard for people of this age to come to a Job Club and to admit they cannot read or write. Whilst this programme will support people until they get into employment, sometimes employment is not the outcome we can achieve for everybody. These people are supported to engage with other services that can help meet their needs.
In December 2018 we carried out a Social Return On Investment audit on the project. The research was carried out by The Connectives. The report found that for every £1 invested by the funders we returned a value of £2.42. This demonstrates the good value offered by the project and the cost savings to the public purse by reducing reliance on benefits where appropriate.
Other information you may find helpful