Northamptonshire Chamber of Commerce Charity of the Year 2019
Chris Duff, Chief Executive of Age UK Northamptonshire says: "I am delighted to announce that Age UK Northamptonshire was successful in securing this sought after accolade, especially as there is such stiff competition from the voluntary sector each year.
Being the Chamber's Charity of the Year will give us the opportunity to raise our profile and to promote Age UK Northamptonshire to the business sector across the whole of the county. It will be a great opportunity to network with Chamber members through their events, in particular their regular Breakfast and Lunch meetings. We are very much aware that "you get out what you put in". We hope that the Northamptonshire business community will get to know the value of our services and learn more about what we do. After all, it is the parents and relatives of their employees who we support and we will be supporting that next generation when they come to retire and grow older.
Laura Graham is our Business Relationship Manager and will be taking the lead on this. You may know her for her work in the Age UK Northamptonshire Later Life Team where she has supported many clients with a wide range of needs. She is also familiar from her work on radio and television for other good causes in the county."
If you are a business based in Northamptonshire and would like to make a positive difference in your community, please get in touch. Call us on 01604 611200 or send an email.
Network Breakfasts
We're enjoying meeting people who are helping Northamptonshire thrive. As Northamptonshire Chamber of Commerce's Charity of the Year we're grateful for any support which enables us to make a difference to local older people.
We welcome the opportunity to tell you about the support and services we provide throughout the county. Please let us know if you're holding a fundraising event - we'd love to come along!
Thank you Johnson Underwood
We are delighted to announce that we have been chosen as Charity of the Year by Northampton recruitment consultancy Johnson Underwood who are members of the Northamptonshire Chamber of Commerce. Johnson Underwood are neighbours of our St Giles Street shop and near our Venton Centre in York Road and will be volunteering to support our clients.
Johnson Underwood have kindly sponsored the production of a 28-page booklet to raise awareness of how our support improves life for local older people. The Northamptonshire Memories Book is now on sale in our shops priced £2.50. All proceeds will help fund our work.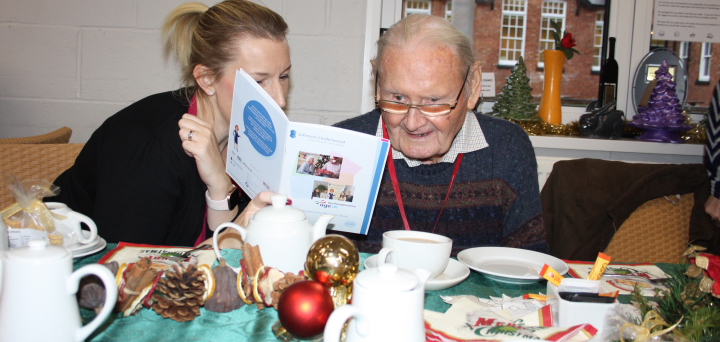 Buy the Kindle version on Amazon
We look forward to an exciting year of joint projects and fundraising with the team at Johnson Underwood. Every penny raised will help support older people in the county.
Other information you may find helpful
Related pages
Related pages on other websites