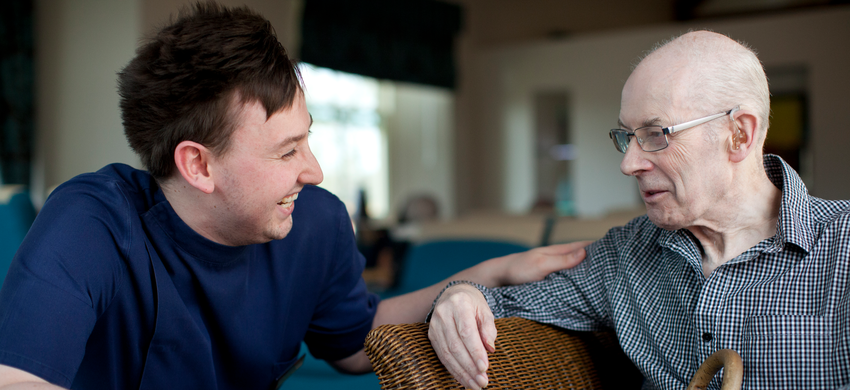 We all want to be able to stay in our own homes for as long as possible when we get older, but it can sometimes be hard to do that when household and practical tasks start to seem more difficult. If you or an older person you know in North Craven needs some extra support to stay at home, our paid-for service could help.
---
What is the help at home service?
The Age Uk North Craven's help at home service supports older people over the age of 55 in North Craven to remain in their own homes by offering support and help with household tasks. The service can be provided between 9am and 5pm Monday to Friday by our fully trained Help at Home assistants.
---
What can you help me with?
Everyday tasks around your home
We can assist you or do your housework for you, vacuuming and dusting, laundry and ironing, general cleaning or spring cleans, bed changing and emptying bins.
Help with preparing meals and snacks
We can assist you or undertake food preparation and cooking to ensure you get a healthy meal.
Shopping
We can accompany you to the shops or do the shopping for you – for food, personal items or for the home.
Getting out and about
We can take you to any personal or health appointments, visit friends or social opportunities which cannot be provided by our community car scheme.
Sitting or respite service
For company or companionship or to give your Carers/Family a break which cannot be provided by our Befriending Service.
Help with correspondence, phone calls and practical support
We can help you with this and assist you with paperwork, and keeping in touch with family and friends.

Any other of your needs can always be discussed with us to see how we can best support you to live independently, leading a happy and fulfilled life.
---
How do I access the service?
If you are interested in receiving the service we will need to do an initial assessment with you in the comfort of your own home to begin with. During the assessment, we will talk to you about your needs, what you are finding difficult and what you would need help with. We will then assist you to create a tailored personalised support plan, which could include some of the tasks listed above.
---
Why do you charge for the service?
The service is charged at an hourly rate to make sure that we can cover the costs of providing a reliable and quality service. Any profits go right back to supporting our work with older people in North Craven.
---
Contact us to find out more
To find out more or to arrange your initial appointment, call our office on 01729 823 066 or email our Help at Home Manager Tracy Smith on tsmith@ageuknorthcraven.org.
---
Useful guides you may find helpful
You may want to download these handy information guides from Age UK.
You can find a full list of Age UK's guides on the national Age UK website.
Other webpages you may find helpful
On the Age UK North Craven site