Safe & Independent Living.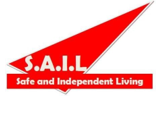 The Safe and Independent Living (SAIL) scheme is a partnership of respected agencies in Dorset including local Councils, Police, Fire, NHS and voluntary organisations. The aim is to provide a signposting service that can help enable people to remain living in their own homes for as long as they wish. The SAIL form is a list of questions covering a variety of topics, for example, memory loss, rogue traders, benefits advice, free smoke detectors, healthy eating and warmer homes.
How to apply
For further information and access to the SAIL form please see details below or contact Age UK North, South & West Dorset. Tel:  01305 269444
or email sail admin.
Complete our (Online SAIL Form) (Opens in a new window) to arrange contact from one or more of our partners.
Once completed Age UK North, South & West Dorset will liaise with our partner organisations who will then contact you directly.
Any information you provide will be treated in the strictest of confidence and will only be shared with the partner organisations you have selected.
Youe can also download a .pdf or word version of our SAIL Forms.