How Your Support Helps Older People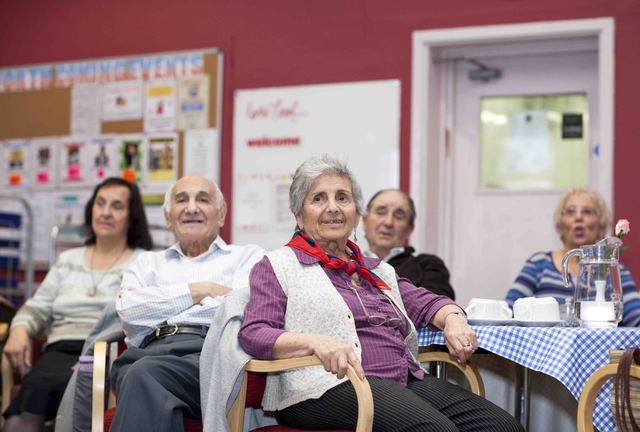 Last year, Age UK North Staffordshire helped more than 9,000 older people, providing activities, companionship, advice and support for those who need it most. But we can only continue to do this with the support of our local communities, fundraising groups and companies. Read Sarah's story to find out more about how we help local people.
Sarah's Story
The story below is true—we've just changed the personal details of "Sarah".
Sarah is widowed - she's 94 years old and lives alone in her own home. Sarah's daughter supports her but works full time, often working extended hours.
Sarah was having struggling to keep on top of her utility bills, due to memory problems and difficulty in understanding the payment and tariff options available to her.
As a result, she had inadvertently run up big utility bills totalling over £1000. She'd made numerous calls to suppliers but, without being able to resolve her situation, had become increasingly confused and distressed.
After discussing Sarah's concerns and problems with her, we contacted the energy supplier and discussed her account with them. They explained that shehad not had her meter read for quite a while and that therefore her bill was estimated. The company offered to send Sarah an application to their trust fund, to see if she could get some help to reduce her debts, and we told her that we would help her fill it in.
Sarah also talked to us about her arthritis and other health issues and we explored the possibility that she might be eligible for Attendance Allowance, a state benefit for severely disabled people aged 65 or over who need help with personal care.
Once Sarah received the trust fund forms, one of our advisors visited her and her daughter and helped complete the forms. We also discussed luncheon clubs, social activities and other types of additional support that could benefit Sarah.
Although Sarah's trust fund application was unsuccessful, the energy supplier agreed to ensure she received quarterly meter readings and made sure her new energy tariff best suited her needs.
The best news, though, was that Sarah was eligible for higher rate Attendance Allowance and also for pension credit guarantee. As a consequence, Sarah is now better off by £145 a week (over £7,000 a year) and no longer has to pay Council Tax. This new income will help Sarah to continue to live independently at home and without the worry and stress over unpaid bills.

How your support helps
Informing & Empowering

By supporting older people they have choice and control to live their lives independently and as they choose. We provide specialist advice and information at our Hanley advice centre, via our website, and on the telephone.

Providing Practical Help at Home

Help at home enables older people to live safely and independently at home. We provide a range of services which help older people to keep their homes warm, well-lit and accident free and to reduce admissions or readmissions to hospital.

Improving Health & Wellbeing

We deliver quality services that respond to the individual needs of older people. We provide a wide range of social and physical activities for older people, such as falls prevention exercise groups, and work with a number of local GPs providing non-medical support.

Preventing Loneliness & Isolation

We develop and promote initiatives that help older people to enjoy fulfilling lives. We work to reduce loneliness and encourage older people to enjoy a good social life through access to clubs and groups, for instance becoming digitally included through our computer clubs.
NEW Volunteering Opportunities
Click here to find out more about all our current volunteering opportunities at Age UK North Staffs - NEW Information and Advice volunteering positions
Find Out More
Companies and clubs can become involved with Age UK North Staffs by holding fundraisers, nominating us as their chosen charity, or even supplying resources which could help to raise funds.

This page explores some key tips about starting to fundraise for Age UK North Staffs, so that you have the best experience, and the process is straight forward

It is important that all your fundraising hardwork is noticed! Find tips on using social media and contacting local press and radio here
Icons created by Eucalyp - from Flaticon