Age UK North Staffordshire has been working with an increasing number of local General Practices since 2014. We provide specialist staff under contract to individual practices who work alongside GPs and other practice staff to support older patients with non-clinical needs.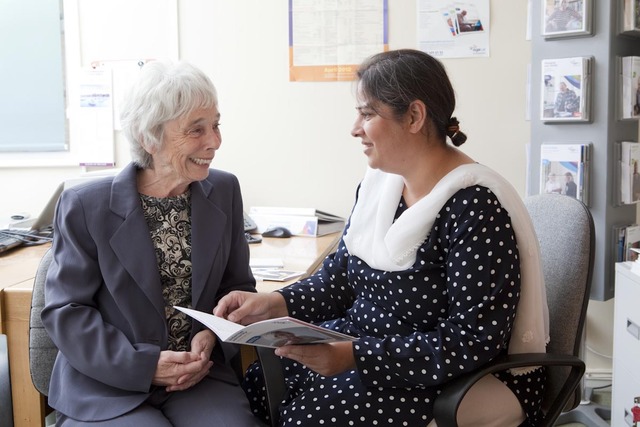 What does the service offer?
People talk to their GP about a range of things when they visit but it can be difficult to find information about local services for the people who may need them and doctors don't always have the time to help with non-medical issues.
An Independent Living Coordinator from Age UK works with practice staff to help minimise hospital admissions, ensure that people are able to maximise their income and independence, and reduce their social isolation.
We make a home visit to meet with the client and initiate a 'guided conversation' to help identify the things they need help with and agree a support plan. This could include:
With social opportunities
Practical arrangements - such as assisted bin collections or Blue Badge applications
Benefits' applications
Supported signposting to other agencies.
Details of the support plan are fed back to the Practice and the Age UK worker implements it, working alongside the patient to achieve their goals.
This is a relatively new but growing service and so far the outcomes have been very positive. By working in this integrated way we are able to provide personalised advice and support to people while also taking pressure off medical staff.
Currently the primary care service is only available to people registered with the following GP practices:
Who is the service for?
A case study
Before we met Mrs B, she had been in the acute hospital for 12 days due to heart failure, and she also had sciatica, hypertension and arthritis. Mrs B had limited mobility and used several aids, had a 6-week package of care, and was supported by community nursing. She was anxious about getting out as she had lost confidence and lived alone.
What we did:
Together, we set a goal with Mrs B to get out of the house and get involved with social and physical activities. Mrs B's priority was to make the kitchen more accessible. A volunteer gave her some help and they sorted things into baskets. We also arranged for our Help at Home service to visit – an hour every fortnight.
We agreed small and realistic goals and review them regularly so that Mrs B's confidence would increase and she would be inclined to take on more ambitious challenges.
Three months later...
We accompanied Mrs B to the local balance and stability class and within a month she was able to attend independently. Mrs B joined a shopping trip that she greatly enjoyed, particularly eating a meal with others as she usually eats alone. She attended the local coffee group and by now she tried several more held at various venues in her locality. Her confidence has improved to the point that Mrs B shares her experience with new groups.
How do I access the service?
If you work in general practice locally and would like to find out more, you can email the Services Manager, John Larkham: john.larkham@ageuknorthstaffs.org.uk
or call on 01782 200721.
If you feel that this service would be beneficial to you, please contact the relevant surgery and staff will be able to make a referral if you are eligible.
What people are saying about the service
"Your support has been so helpful, just having someone to talk about all this gives me a lot of comfort"
"Thanks for the visit, I had no idea all this stuff was out there, I will definitely try to get to some of these sessions".
"The coordinator has really helped mum, I can't believe the difference in her mood compared with a few weeks ago. I hope something similar is around when I get older"
Contact Us for More Information
Call our Hanley office for more information on the services we offer people over 50 years of age