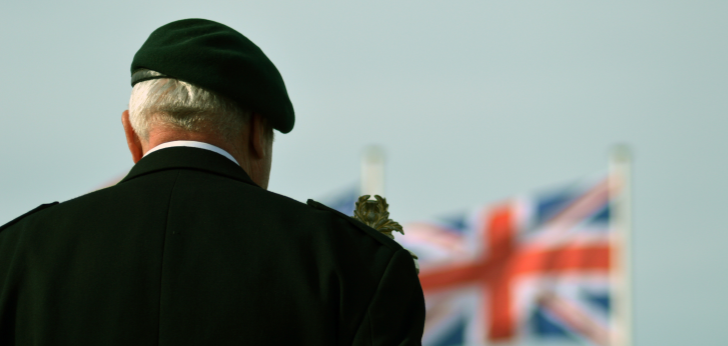 Age UK North Tyneside has now joined forces with Operation Veterans to make sure vulnerable people can access support and advice, and combat loneliness, in what is a landmark collaboration for the two organisations.
The partnership was celebrated at the opening of Operation Veterans' hub and new café on Nile Street in North Shields – which is specifically for ex-service people and their families to visit, where they can socialise and receive support.
Charity bosses hope to extend the partnership to last for years into the future.
Speaking at the launch opening of the hub and café, Head of Charity Services at Age UK North Tyneside Yvonne Probert said: "This is an extremely important hub and growing partnership which will greatly benefit ex-service people across North Tyneside.
"Covid-19 has made it more difficult for us to deliver certain services but also made it even more important than ever that older people, including veterans, get all the help and support they need.
"We are incredibly excited to be working with Operation Veterans, which will give us the ability to reach out to many more veterans than ever before.
"Although we have been working together informally for a while, this new hub will grow the partnership and will enable each organisation to refer people easily to each other so older veterans can access both sets of services.
"We hope this will be have a huge, positive impact on a lot of people's lives. In the long term we hope to be able to run an outreach programme from the Operation Veteran Hub and Charity Café too, which is very exciting."
The two charities have worked separately with hundreds of veterans over the past three years, but hope to support many more with this new partnership.
Operation Veteran Managing Director Jim Owens said: "These are two organisations with different aims and objectives coming together to meet the very real needs of the community.
"We have ex-service people of all ages – from the Army, Royal Air force and Navy – coming through our door, and partnering with Age UK North Tyneside will mean that we can offer them more help than ever before.
"It is a very exciting time for our charity."
Age UK North Tyneside runs a Befriending Service – where older people are paired with someone to visit or phone them regularly – and has already helped around 100 older people combat loneliness during the pandemic.
It now plans to involve more veterans in its Information and Advice service, which last year helped more than 3000 people from across the borough access over £1.7m in previously-unclaimed benefits.
Other services veterans will be able to access include Winter home safety checks, Priority Services Registration, Winter fuel and cold weather payments, green home grants, scam avoidance support, support to obtain war medals and veteran badges and much more.
Yvonne added: "Loneliness is becoming more and more of an issue in these times and we hope this partnership will really help tackle veterans' susceptibility to this feeling of isolation.
"Our Information and Advice service is vital in helping people claim the money they are entitled to, and again, we believe ex-service people could really benefit from being able to access these funds."
To find out more about these services, contact Age UK North Tyneside on 0191 280 8484.
How we helped David
David is an 83yr old ex-services veteran, he lives alone in a private rented property in North Tyneside. He likes to meet up with friends but this is becoming increasingly difficult due to his poor mobility.
He has great difficulty with his mobility which limits him, he does drive which is his lifeline but finds it difficult when he has to park the car away from where he is going. This has been stopping him from going to many places and reducing his social activity, he was at risk of becoming isolated.
Money is a struggle, he does get some benefits but finds it hard to make ends meet. David contacted our Information & Advice team for advice and support With the support of Lindsay an Information & Advice Officer a claim was made for Attendance Allowance. David was also supported with an application for a Blue Badge.
The Attendance Allowance claim was successful, his income increased with the award and he also qualified for an increase in his Pension Credit because he is now classed as being disabled under Welfare Benefit rules. His weekly income increased by £121.30 which is an annual increase of £6,307.60
David also had a successful application for his Blue Badge, this means he can continue to meet with friends because he can park close to where he needs to be. This has improved his overall wellbeing and reduced the risk of social isolation which can lead to further health issues both mental and physical. David said "I can't thank you enough for the help you've given me. I only wanted a Blue Badge and never imagined I would qualify for extra money as well, thank you"
To ask about benefit entitlement or simply for information, advice and support call our team Telephone 0191 2808484.
Fran Chubb, our Ex-Service Personnel Liaison Officer, holds monthly sessions at Operation Veteran and Walking With The Wounded North East.
You can drop in for an informal chat to hear all about our services for veterans.
We can help you with:
Telephone befriending & support
Qualified Information, Advice & Guidance
Peer support groups
For more information please call 0191 280 8484
or Email customerservices@ageuknorthtyneside.org.uk