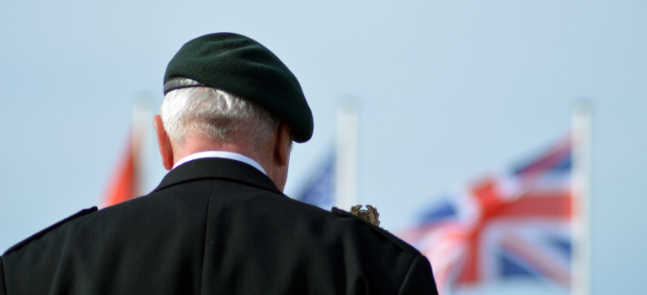 We offer vital support to veterans over 50, their spouses, and their carers.
Who we are
Cheryl Newton is our Veterans Coordinator. Cheryl collaborates and interacts with veterans and external organisations to provide opportunities to benefit veterans who may not be aware of the support and services they could potentially receive. This will enable them to build confidence and link in with the wider community to assist in creating a more fulfilled life.
Fran Chubb is our Ex-Service Personnel Liaison Officer. Fran holds monthly sessions at Operation Veteran and Walking With The Wounded North East. You can drop in for an informal chat to hear all about our services for veterans.
To get in touch with Cheryl or Fran, or to find our more about our Support for Ex-Services, call us on 0191 280 8484 or email community.engagement@ageuknorthtyneside.org.uk.
Veteran Questionnaire
We are currently looking for veterans in North Tyneside to take part in our Veteran Questionnaire to help us better serve our community. If you'd like to take part, call us on 0191 280 8484 or email community.engagement@ageuknorthtyneside.org.uk.
How we helped David
David is an 83 year old ex-services veteran, he lives alone in a private rented property in North Tyneside. He likes to meet up with friends but this is becoming increasingly difficult due to his poor mobility.
He has great difficulty with his mobility which limits him, he does drive which is his lifeline but finds it difficult when he has to park the car away from where he is going. This has been stopping him from going to many places and reducing his social activity, he was at risk of becoming isolated.
Money is a struggle, he does get some benefits but finds it hard to make ends meet. David contacted our Information & Advice team for advice and support With the support of Lindsay an Information & Advice Officer a claim was made for Attendance Allowance. David was also supported with an application for a Blue Badge.
The Attendance Allowance claim was successful, his income increased with the award and he also qualified for an increase in his Pension Credit because he is now classed as being disabled under Welfare Benefit rules. His weekly income increased by £121.30 which is an annual increase of £6,307.60
David also had a successful application for his Blue Badge, this means he can continue to meet with friends because he can park close to where he needs to be. This has improved his overall wellbeing and reduced the risk of social isolation which can lead to further health issues both mental and physical.
David said "I can't thank you enough for the help you've given me. I only wanted a Blue Badge and never imagined I would qualify for extra money as well, thank you."