Dementia café and carer support group
Published on 12 January 2018 10:00 AM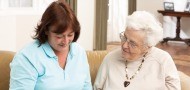 St John's House Care Home and Age UK Norwich are launching a brand new dementia café and carer support group on Thursday 22nd February at 1.30pm. The new group will meet in this lovely care home in Heigham Road, Norwich. It is open to local people who are affected by dementia and their families and carers. It will be a friendly, social group with the opportunity for chat, games and activities over a cup of tea. There will also be support for carers either in the form of group talks or as individual conversations. One to one support will also be available.
The group will meet on the last Thursday of every month from 1.30pm to 3.30pm.
For more information please contact Ellen at Age UK Norwich on 01603 496333 or Laura at St John's House on 01603 299000, or email dementiacare@ageuknorwich.org.uk.
---