Remember the silvers who don't surf!
Published on 30 April 2020 12:16 PM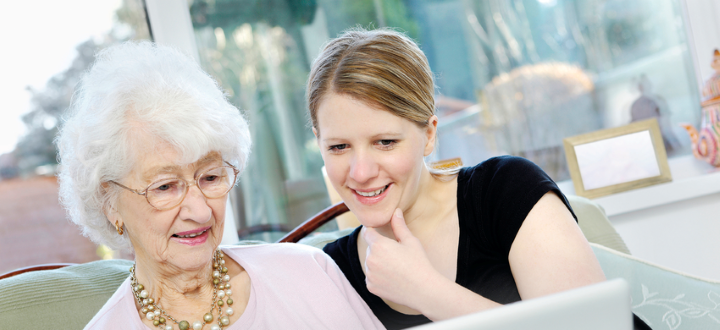 As the lockdown goes on, organisations representing older people are urging the public to bear in mind neighbours who may be cut off from internet help and advice.
Age UK Norwich chief executive Dan Skipper said: "It is inspiring the way the community, all over Norfolk, is pulling together to help those in greatest need. Help is available across the community, but much of this vital information is limited to online and social media.
"In the modern world, people can be isolated through lack of internet access - or in some cases, possessing it but not being clear how to use it, which is the case with a good many older people who we speak to. For people without this access, it's a harsh reminder of their separation from society and loss of control over their own lives.
David Button, Chair of the Norfolk Older People's Strategic Partnership said: "Many households across the city and county are occupied by older people who do not have access to a smartphone or PC. With the recent closure of local libraries and diminishing levels of news and information provided in-print, many older people may not find out about the support around them, which along with people online, they should be entitled to receive at this time."
These views were echoed by Mary Ledgard, Chair of Norwich Older People's Forum. "A lack of access to the internet also has practical implications. A lot of the information about local businesses who are prepared to deliver food and other groceries to people who are self-isolating is available online, which means that older people may have to put themselves at risk by going out to shop. It is also more difficult for these older people to research services and support around them, and with limited public services at this time, charities such as Age UK who provide that advice are a real life-line. But people in the local area can help with this, by sharing what they know with their older relations, neighbours and friends."
Mr Skipper said "If you have a phone, tablet or computer, but need a little help in using it, don't be embarrassed – ask your family for some help, or call us on 01603 496325. Our staff and volunteers can offer older people in the city basic support to send an email, search the internet, or chat to family.
The free, phone-based support is just one of the services on offer from the city-based charity, as it reconfigures to meet the Covid-19 challenge. An extensive list of businesses offering home deliveries of food is available on its website, at www.ageuknorwich.org.uk or via their advice line 01603 496333. And for the increasing number of older folk who are online, streamed versions of some of the charity's usual activities are being offered (group-chats, physical activity, mindfulness sessions and quizzes, for example). All the regular advice and information about other topics - from welfare, debt, to making a will or sourcing a plumber - is still available by on 01603 496333.
And there are also phone-based befrienders. Mr Skipper said: "Loneliness has always been a key focus for Age UK. It is a killer, and even if it does not undermine health, it robs our older people of the pleasure and quality of life they deserve."
"In the current crisis, we have ramped up our work in this area, taking on extra volunteers who have been police-checked (Disclosure and Barring Service or 'DBS' checked) for the protection of our clients, and who would be delighted to offer a weekly or twice-weekly social chat to anyone who would like that. Sometimes, hearing a friendly voice just for a few minutes can make your day, especially if you live alone."
If you know someone in your family or on your street who is not online, please download our postcard and pop-it through their letterbox if safe to do so. Help us make sure they know support is available.
A helping hand during lockdown