Spending time with friends in your local community is good for your mental health and our social groups can help you to learn new skills, reignite that passion for a lost hobby, and meet like minded people.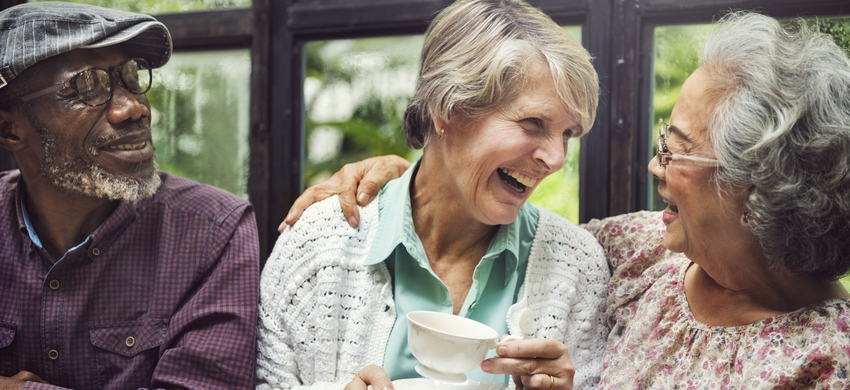 Think Food - Cooking on a budget (5 week cookery class)
The next session starts on the Wednesday 8th June 2022, 10am to 12pm, running for four weeks.
Ever wanted to know how to cook a healthy, tasty homemade meal on a budget? We've teamed up with Norfolk County Council's 'Think Food - Cooking on a Budget' team who will be delivering a free 5 week hands on session to teach you everything you need to know to make day-to-day, cheap and healthy home-cooked meals from scratch.
Groups are a maximum of 5 people so you know you'll be fully supported with one-to-one help on hand.
All food and equipment is provided, and you'll also get a free recipe book to take home at the end!
Cost: Free
Frequency: 4 week course
When: 10am - 12pm every Wednesday
Where: Age UK Norwich, Marion Centre, Marion Rd, NR1 4BN
Booking is essential to secure your place. To book call email enquiries@ageuknorwich.org.uk
Community Day Trips
Trips to different locations in Norwich and Norfolk. Enjoy a day at the garden centre, country-side, historic site and other locations. These trips are primarily for those who are isolated and do not have the neccesary means to go out themselves. Booking is essential and some eligibility criteria will apply.
Cost: Free
Frequency: Monthly
When: Thursdays
Where: Various - please call us to find out where the next trip will be
Booking is essential and on a first come, first serve basis. Numbers are limited.
Lunch and Games Afternoon
Enjoy an afternoon of board games and bingo alongside a delicious lunch! Contact us to pre-book your space.
Cost: £5
Frequency: Monthly
When: Wednesday, 12 noon - 3pm.
Where: Coach and Horse's Pub, Bethal Street
Eaton Classic Film Club
Classic movies brought to you in a projected picture with popcorn, or ice cream for the warmer days!
Cost: £2
Frequency: Second Wednesday of each month
When: Wednesday, 2.00pm - 4.00pm
Where: Eaton Park Community Centre
Veteran's Recall - Dementia Friendly
At this Dementia Friendly group, we bring together retired and serving military personnel. Reminiscing and sharing fantastic stories
Cost: Free
Frequency: Fornightly
When: Friday, 10.30am - 12.30pm
Where: Marion Day Care Centre, Marion Road
"Still on the Ball" Football Reminiscence Group - Dementia Friendly
Norwich has some rich history and so does it's football club, the Canaries. Here we share some of the fantastic experiences, play games, quizzes and discuss everything Norwich. A must for all Norwich fans aged 50+ and it's also a Dementia Friendly Group.
Cost: Free
Frequency: Monthly
When: First Thursday of the month, 1.30pm - 3pm. BOOKING REQUIRED.
Where: Norwich City Football Club, Carrow Road
St Stephen's Church Cafe Group
Come along for a nice cuppa and chat at our brand new group at St Stephen's café. Run by wonderful volunteers for anyone who would like to stop by and join. No need to book, just come along for a chat and a cuppa with our friendly group - bring a friend, relative or your Activity Befriender! Keep an eye out for blue lanyards worn by our volunteers. All welcome!
Cost: Free
Frequency: Weekly
When: Thursdays, 2pm-3pm
Where: St Stephen's Church Café, 2 Rampant Horse St, Norwich NR2
Time Travellers
Share your memories of Norwich and Norfolk with others over a cup of tea and look back at photos and articles.
Cost: FREE
Frequency: 3rd Thursday of the month
When: Thursdays, 3pm-4.30pm
Where: Earlham Library, Colman Road
To book, call us today 01603 496333
Our friendly team are here tell you more about our groups and get you booked on. Our lines are open between 10.00am and 4.00pm, Monday to Friday.
Further support
We're always on the look out for people to help us with our groups. If you'd like to become a group champion contact us today!

Find out exactly when and where all our groups are taking place through LUMI - the place to find everything needed to get involved in city life.