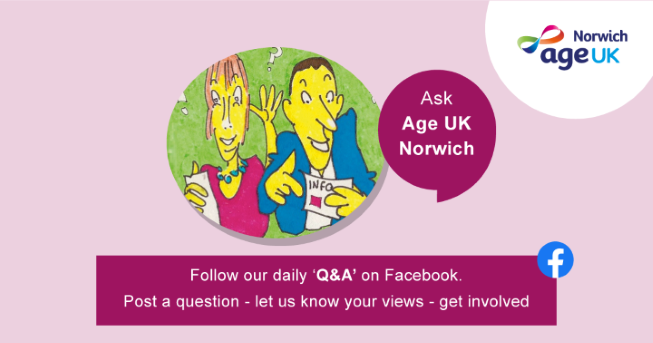 Since the government lockdown response for Covid-19, we have received a lot of calls as people are unable to do things as they would normally. We will be sharing the common questions and our guidance on a daily basis, published here on our website and our social media.
If you have a question, you can post this online via Facebook, or drop us an e-mail at enquiries@ageuknorwich.org.uk
New coronavirus guidance
Following reports of a new strain of coronavirus in the UK known as Omicron, the Government has announced some changes to rules as a precaution while scientists gathers more information.
Coronavirus booster jabs
The Government has announced that all adults aged 50 and over will be offered a booster jab to help protect them against coronavirus.
Issue 2 - Dental Emergencies
Issue 4 - Medical Appointments
Issue 5 - Coronavirus scams
Issue 6 - Attendance Allowance
Issue 11 - Funeral arrangements
Issue 14 - Driving Licence Renewal
Issue 15 -  Covid Alert Level 4
Issue 16 - Hands, Face, Space
Issue 18 - How to wear a mask safely
Issue 19 - What should my mask be made of?
Issue 20 - When is it okay not to wear a mask or face covering?
Issue 21 - Keeping Safe at Christmas
Issue 22 - Covid-19 Vaccine