Age UK Notts holds tree planting day at Cotgrave Country Park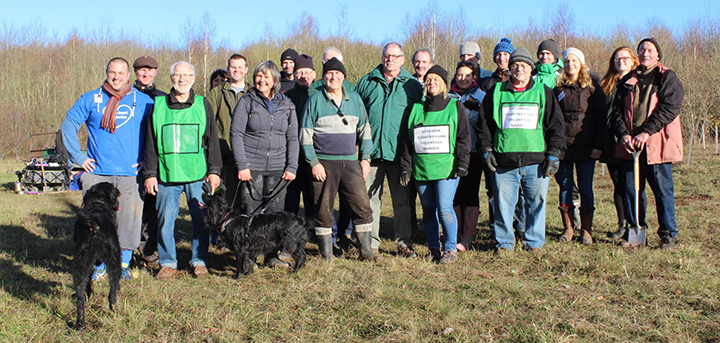 Published on 19 December 2017 11:51 AM
Age UK Notts held a special first tree-planting ceremony at Cotgrave Country Park on 28th November 2017. Mich Stevenson OBE DL Hon LLD Hon MA planted the first tree to mark part of Age UK Notts' fundraising effort for its 75th anniversary celebrations with its Tree of Life campaign. The President of Age UK Notts, Peter Moore DL, also attended.
Volunteers from Rothera Sharp Solicitors (Age UK Notts' partner of the Tree of Life campaign), Nottingham College, Experian and Office of the Public Guardian attended on the day and planted 250 saplings. Age UK Notts was also supported by Nottinghamshire County Council and the Friends of Cotgrave Country Park group who prepared the land for the tree planting.
Chairman of Friends of Cotgrave Country Park, Harry Burrows, said: "The trees will provide a screen between the park and the northern side of the new estate when they mature. This will be a lasting legacy for the park. A big thank you to all who came along to help."
Fundraising Director of Age UK Notts, Maggie Ross, said: "We are helping to enhance our environment and also the lives of older people in Nottingham and Nottinghamshire with our Trees of Life campaign. As part of this ambitious campaign to celebrate our 75th birthday, I'm delighted that we are working with various partners to plant up to 750 trees – helping leave a lasting legacy for future generations."
To sponsor a tree or request more information you can call our freephone number 0800 088 6349 or email us at getinvolved@ageuknotts.org.uk. Tree sponsorship is a £75 suggested donation.