Edward's story - Home is where the art is (Advertorial)
Published on 28 November 2017 11:54 AM
Edward has been an artist since a young boy. Using the home eye-testing service from The Outside Clinic was key to being able to continue with what is more than simply a hobby to him.
He has painted all his life and still manages to paint usually every other day, his work covers the walls of his home and fills the rooms.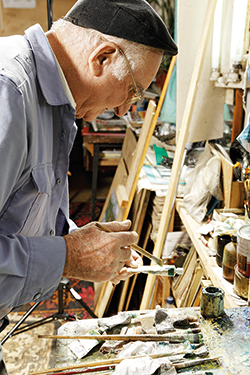 Edward said, "I rang my local optician and explained that I could not get to them since a recent serious illness and they put me on to The Outside Clinic that specialise in carrying out tests in peoples' homes. Good vision is critical to being able to continue painting, People that don't paint imagine that you have to work close up to the canvas but in fact you are constantly moving when you paint. I believe that anyone can paint and I have taught many people to do the basics."
One of the advantages of a home sight test is that the optometrist can take account of any specific optical needs that a patient has. The optometrist was able to discuss the details of what is involved in painting such as the 'focal length' that Edward requires and he was able to take measurements in the location that he actually paints, sitting at his easel.
An eye test at home doesn't mean you miss out on all the latest technology that you have come to expect from your optician on the high street. The Outside Clinic use portable versions of equipment and can even carry out digital retinal photography.
"In the last 12 months my sight has got much worse and I was worried that I might not be able to carry on painting." he added.
The Outside Clinic is delighted to have been able to help him continue with his much loved hobby, this is a great example of what a difference an eye test at home can make to people's lives.
Your eye test is free if you purchase a pair of spectacles at the time of your test or qualify for a NHS funded eye test at home. If you don't qualify for a free test, you can still enjoy all the convenience and comfort of a home eye test for just £30.
Note: Age UK Nottingham & Nottinghamshire will accept no responsibility for, or necessarily agree with, any claims made or views espressed in this advertorial, nor does the mention of any product and/or service in this advertorial imply recommendation by Age UK Nottingham & Nottinghamshire. The information contained in this advertorial is not advice, and should not be treated as such. To the maximum extent permitted by applicable law, we exclude all representations, warranties, undertakings and guarantees relating to this advertorial.