From dinosaur to doer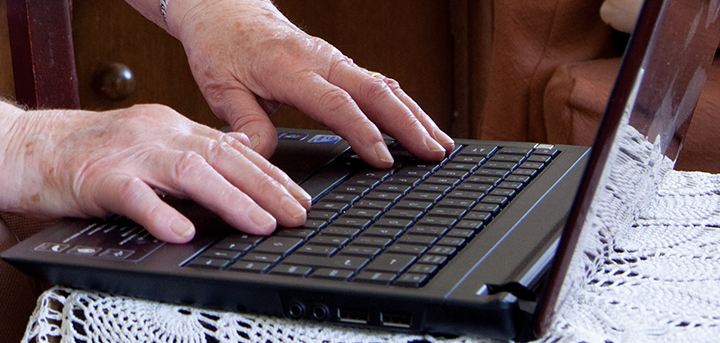 Published on 27 June 2017 10:53 AM
Selling things has never been a problem for 60-something Kevin; using technology has. Kevin loved his job (based in Trowell Garden Centre) but didn't love the new technology he was expected to use to improve customer service. Kevin was a self-confessed 'dinosaur' but could see that his options would be limited without better IT skills.
After seriously considering leaving the job, he decided that he wouldn't be beaten and enrolled on a ClickSilver course to learn more about how to use a computer. He hasn't looked back since.
ClickSilver pairs an older person who lacks IT skills with a student mentor and, together, they explore the world of possibilities that being able to use a computer can offer. Kevin wanted a general overview, a bit of guidance and support and to feel more confident and competent. That's exactly what his student mentor, Abi, was able to give him.
Kevin is really clear on the personal benefits:
He identifies the following personal benefits from the course:
Much greater confidence in using computers at home
More comfortable with IT as a whole
Improved communication skills by working with an overseas student mentor with English as a second language
A better understanding of the younger generation, particularly students
Enjoying sharing holiday and other photographs with friends and family
Enjoying 'brain training' opportunities such as online games
Now uses It to track activity so keeps him healthier and more alert to health issues
That's not all: Kevin thinks it's made him a better employee. Kevin always felt his IT skills let him down and they were always a psychological barrier to feeling fully capable in the job. Now Kevin knows that he is a great salesman who can offer great customer service and back it up with professional use of IT.
Kevin says: "My company offers a really bespoke service and using a paper-based brochure was really limiting. I couldn't show customers the full range of options but I can now. I look more professional and the customer gets exactly what they want. We also make fewer errors because the IT makes measuring and recording much easier. It's a definite winner for me."
So proficient has Kevin become that other sales staff now ask for his help and advice. My employer believes in using the skills, talents and experience of older staff because they match their customer profile and can bring high levels of customer service skills to the sales roles. They've been delighted with Kevin's success and are considering ways in which it can be replicated in other areas of the UK.
ClickSilver is an innovative project, delivered in conjunction with Capital One and Business in the Community. It wouldn't be possible without the dedication of the students who come from our 2 universities and it's a real success story. It's helped hundreds of older people to improve their IT skills and hundreds more to develop a deeper understanding of different generations. We couldn't be more proud of all our delegates and mentors.
To find out more and register your interest you can either:
Self-refer using the online form
Call us on 0115 844 0011 or call ClickSilver Connections on 07725 638028 or 07415 960513
Email info@ageuknotts.org.uk or clicksilver@bitc.org.uk
Find out more about our Clicksilver Course
If you think you could benefit from learning more about using computers or the internet, get in touch.