Coronavirus vaccines explained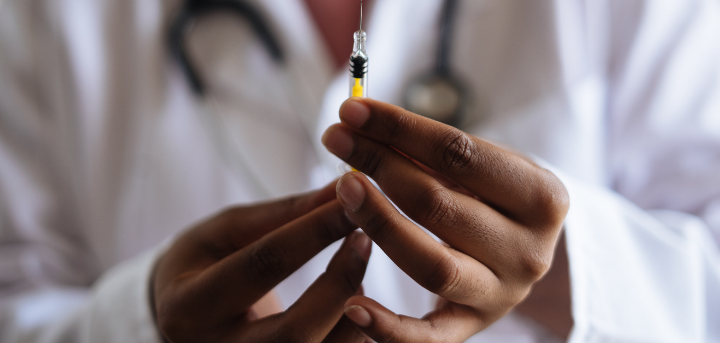 Published on 03 March 2021 12:44 PM
The news of the approval of coronavirus vaccines in the UK has provided a sense of hope. Whether you want your vaccine as soon as it becomes available to you, or you're a bit hesitant about getting it, it's important to rely on information that you can trust.
Is the vaccine safe?
Yes. The UK regulator and Joint Committee on Vaccination and Immunisation (the independent experts that advise Government on all vaccines) have assessed all approved vaccines to be safe and able to offer a high level of protection against becoming severely unwell with coronavirus including for older people.
While there will be different vaccines available, no one will receive a vaccine that hasn't been properly approved and shown to be safe.
When will I get the vaccine?
Coronavirus vaccines will be made available to all adults at some point. We don't have enough information yet to know exactly when that might be, but we do know it's going to require patience as not everyone's going to be able to get vaccinated at the same time.
Currently, all those in cohorts 1-6 below are eligible for a vaccine.
To make sure those most in need of a vaccine receive one as soon as possible, the Joint Committee on Vaccination and Immunisation (JCVI) has advised the Government to prioritise certain groups. Once these groups have been offered their vaccine, the JCVI will set out the priority order for the remaining adult population.
The initial priority groups are set out below, starting with those considered a high priority:
Older adults that are a resident in a care home and their care workers
Everyone aged 80+ and all health and social care workers
Everyone aged 75+
Everyone aged 70+ and all those considered clinically extremely vulnerable and have been shielding
Everyone aged 65+
Everyone aged 16-64 with an underlying health condition which puts them at higher risk of becoming seriously unwell, and unpaid carers
Everyone 60+
Everyone 55+
Everyone 50+
Age is the most important risk factor for being admitted to hospital and dying from coronavirus, so the oldest age groups and older people living in care homes are a top priority.
This priority list provides a framework. However, that's not to say everyone single resident in a care home will receive a vaccine before any health workers receive theirs, for example. Due to logistical factors, it might be this order might vary a bit in practice, and some parts of the country may make faster progress through the priority groups than others.
It is possible that the guidance on priority groups may change as more information becomes available on the individual vaccines and groups listed above.
I provide care for someone, when will I get the vaccine?
People who provide significant care or support for an older or disabled person in the home may be classed as carers. This means that,
If you're eligible for Carer's Allowance or a sole or primary carer of an elderly or disabled person who is clinically vulnerable to coronavirus then you're eligible to receive the vaccine as part of priority group six who are in the process of being invited for vaccination now.
If you receive Carer's Allowance, are registered as a carer on your GP records or are registered as a carer with your local authority following a carers assessment then you should be contacted to be vaccinated in the coming weeks.
If you're not registered as a carer anywhere or aren't sure then you should contact your local authority.
You can find more information for carers on the Carers UK website.
How can I get the vaccine?
Currently, the top six priority groups listed above are eligible for the vaccine. If you're aged 70 and over or clinically extremely vulnerable, then you don't need to wait to be contacted but can book an appointment at a vaccination centre or pharmacy site online here or by calling 119 between 7am and 11pm. Those in priority groups five and six should still wait to be contacted. Health and social care workers and care home vaccinations should be organised by your employer or care home.
To book an appointment it would be helpful to have your NHS number, which you can get from communication from the NHS or from some medications, but if you're registered with a GP you can still book without an NHS number. You're able to book an appointment on behalf of someone else.
If a suitable appointment isn't available or it's not possible for you to attend a larger vaccination centre, for example if you're unable to travel to the vaccination centre or you are housebound then you can contact your GP practice and they can support you to access a more local option.
When you do get contacted to attend you may receive multiple invitations with different options and you can choose where to get your vaccine, if you receive a letter from the national booking service for the large vaccination centres or pharmacy services then you can wait to be contacted by your local GP service if a more local service is more accessible. If you've already had a vaccine or booked an appointment, then you don't need to respond. You may receive a phone call, email, text message or letter. So it's useful to keep an eye out to make sure you receive the message. If your contact details have changed lately, now's a good time to make sure your GP practice has the most up to date information.
There's no time limit for getting vaccinated. If you've already been contacted about an appointment and haven't taken it up or you've declined, and you're in one of the top six priority groups then you're still able to book a vaccine and can either follow the instructions above on booking an appointment.
Where will I get the vaccine?
Vaccinations will take place at one of the following settings:
at a hospital
in the community – through GPs and pharmacists
in specially designated vaccination centres
in your home if necessary
The number of vaccination sites is increasing all the time to help vaccinate as many people as possible.
If you can't travel to get a vaccine, you will still be contacted. The NHS is working on special arrangements for people who are housebound.
What will happen at my appointment?
Make sure you arrive on time but not too early for your appointment to minimise contact between people getting vaccinated. Where possible you should attend alone for social distancing measures, however if you need support in attending then one carer or family member can attend the appointment with you.
Remember a face covering if you're able to wear one and practice social distancing and good, regular hand washing to prevent the spread of infection.
When you attend your appointment, you'll be asked:
How you're feeling and if you have any symptoms that would stop you from being able to have the vaccine
About your medical history
If you have any questions
To consent to having the vaccine
You'll need to bring:
A face covering, unless you are exempt from wearing one
Your booking reference number if your appointment is at a large vaccination centre
Proof of your occupation if you're a health or care worker
What to expect:
All places offering vaccines will have social distancing and other measures in place to keep you safe.
Depending on which vaccine you receive, you may be asked to wait for 15 minutes after having the vaccination.
You'll be given a leaflet about what to expect after your vaccination to take home with you.
You'll be given a record card.
Your next appointment will be in the period up to 12 weeks after your first vaccination and in the same place as your first one.
Keep your record card safe and make sure you attend your next appointment. After receiving your first and second doses of the vaccine you must continue to follow government coronavirus rules and guidance. It's important to return for your second dose as this maximises long term immunity.
The NHS has provided some information about what to expect at your appointment, including what to bring to it.
What are the side effects of the vaccine?
Each vaccine has gone through trials to ensure the risk of serious side effects is very low. However, as with other vaccines such as the flu vaccine, there are some common side effects. These could include:
A sore, 'heavy' arm where you had your injection
Feeling tired
A headache
General achiness or mild flu-like symptoms.
For a small proportion of people, their glands might swell. If this happens, you're advised to take paracetamol
If you do experience any of these side effects, they're likely to last no longer than a week. But if they get worse or you're concerned you should call NHS 111 and explain your symptoms and let them know you've had a vaccination.
Any side effects you experience can also be reported to the Medicines and Healthcare products Regulatory Agency's (MHRA) Yellow Card Scheme by your doctor.
Serious reactions to vaccines are uncommon but can happen. People with an allergy to the ingredients of the vaccine should not receive it, however those with other allergies such as food and other medicines are able to receive the vaccine. If you're concerned, speak to your healthcare professional for further advice.
Why do I have to wait for my second dose?
Each of the vaccines which have so far been approved for use in the UK requires 2 doses to provide good, long-lasting protection from coronavirus.
Initially, the Government announced that people would receive their second dose of the coronavirus vaccine within 21 to 28 days of having the first. This has been extended so that people may have their second dose of the vaccine up to 12 weeks later. This will allow as many people as possible to receive their first dose in the quickest time frame.
This decision has been made following the recommendations of the Joint Committee on Vaccination and Immunisation, the independent expert body which advises Government on all vaccines, and has been approved by the Medicines and Healthcare products Regulatory Agency, the body which regulates and licenses all drugs in the UK.
The JCVI examined the evidence and concluded both first doses of the vaccines provide substantial protection from severe coronavirus disease within 2-3 weeks of receiving the first vaccination. Further research is on-going, but the JCVIs expert view, based on the available evidence, is that this level of protection is unlikely to substantially diminish over the 12-week period and the second booster dose will still act to ensure that protection is long-lasting.
What happens after I've had my vaccination?
While being vaccinated provides good protection from becoming unwell with coronavirus and we're all looking forward to being able to see our friends and family again, it's very important that when you have been vaccinated you continue to follow social distancing rules and any government guidance on restrictions.
This includes:
Self-isolating if you're required to do so, for more information see here.
Maintaining social distancing measures from those who are not in your household or support bubble.
Booking a test and self-isolating if you have symptoms of coronavirus.
Wearing a face covering if you are able and where it is required to do so.
Following Government guidance on meeting with others in your area.
This is because:
You will not be protected straight away. Depending on the vaccine it may take 2 or 3 weeks for you to develop immunity.
No vaccine is 100% effective. Even after you've waited those first few weeks, and following your second dose, your vaccination may not offer you complete protection from becoming unwell with coronavirus.
Restrictions will remain in place as long as there are large numbers of people in the UK with coronavirus.
We don't yet know how well the coronavirus vaccines work at preventing transmission of the virus. It's therefore possible that after vaccination you could catch coronavirus but have no symptoms, so be able to pass it on unknowingly to someone else.
What don't we know about the vaccine yet?
While there's plenty we do know about a vaccine, there are still things we don't know for sure.
This includes:
whether the vaccine only prevents symptoms or also stops infections being transmitted from one person to another. As a result, we will all need to continue to be careful even after we have received a vaccine.
how long immunity lasts after you've had a vaccination and how often you might need to get vaccinated. Experts will monitor the vaccine and what happens next, but it may be some years before we get the answer.
For more information about Coronavirus, click here. For details of how Age UK Notts can support you at this time, click here.