Get connected with free tech support from ClickSilver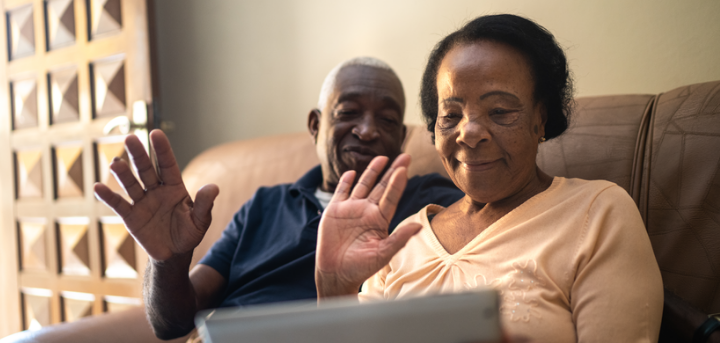 Published on 13 April 2021 12:44 PM
Our popular ClickSilver Connections sessions are now available over the phone.
Many older people are gaining greater digital confidence during the pandemic. Technology is a great way to stay connected with friends and family. We can also use it to access services and entertainment from the comfort of our own homes. And with so many services and activities taking place online right now, there's never been a better time to get connected.
During the Covid-19 pandemic, did you know that:
5 million UK adults have bought new or given a second-hand digital device to someone over 60
£7.3 billion has been spent on buying a gadget for someone aged 60+
Over 60s have each participated in an average of 21 video calls
Services being taught to people 60+ include Zoom, WhatsApp, FaceTime, social media and TV subscriptions such as Netflix
Of the 48% of adults [25 million people] who have taught someone over 60 how to use technology, 68% said it had a positive impact on the person's mental health
Learning new digital skills is a great way to stay connected beyond the pandemic too. You may be surprised at how much you are able to do online. You can use the internet to connect with other people and carry out tasks such as shopping, dealing with the utilities, and connecting with public services such as the GP surgery, your chemist, and the local council.
Getting to grips with new technology can seem tricky but help is just a phone call away. If you are aged over 55 with limited or no digital skills, ClickSilver Connections can offer you 4 weeks of free telephone support to help you to use your phone, computer, tablet, and more.
Your friendly ClickSilver Connections mentor will help you with the things you would like support with, from making video calls and online shopping to setting up GP appointments online. The course offers one-to-one support and is flexible to individual needs.
The excellent volunteer mentors have all been DBS checked and are waiting to help anyone who is struggling with technology, especially those who are experiencing social isolation during these unprecedented times.
If you feel that you could benefit from getting to grips with technology, then why not sign up for FREE support from ClickSilver Connections?
It's completely free to join and there are courses starting in mid-April, right the way through until the beginning of November.
If you or someone you know could benefit from FREE tech support, email info@ageuknotts.org.uk or calling 0115 8440011. To find out more, click here.
Please share this information with your friends and family and lets help more older people make the most of what technology has to offer.