Congratulations to another 'unsung hero'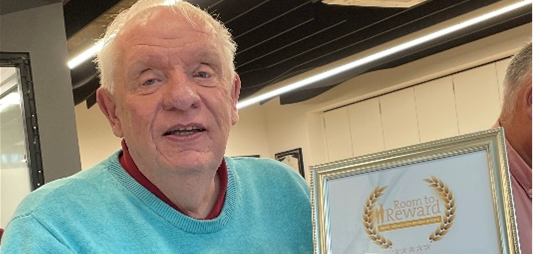 Published on 01 February 2022 02:11 PM
Nigel Cruickshank, an Information and Advice volunteer at Age UK Notts has been recognised as an 'Unsung Hero' by the charity, Room to Reward.
Nigel has been volunteering for the Charity since 2012 in our Information & Advice Team, supporting people to complete Attendance Allowance forms. He has worked tirelessly for the benefit of our clients and ensures that the Charity has a great reputation across Nottingham and Nottinghamshire.
Nigel is supportive and helpful across the board. He has a dry sense of humour and keeps up the spirits of those around him when he is able. Nigel takes a holistic approach to his role and will make necessary referrals to other services within the Charity when he identifies an additional need for a client. He always ensures that the client gets the best service and remains as safe and independent as possible in their own home. Nigel is very aware of the need to maintain income for the Charity by continuing to let people know of the opportunity to make a donation. Nigel continues to help many frail and older people to maximise their income at a time when they need it more than ever.

As well as a certificate to mark his achievement of this award, Nigel can also choose a 2-night hotel stay with breakfast for two people courtesy of Room to Reward. We hope Nigel has a great time wherever he decides to stay!

Do you want to help older people and give something back?
Our continued success depends upon the generosity of our volunteers to ensure that we can continue to provide a wide variety of services to help older people in our local community. By volunteering and sharing your time, skills, experience, talents, enthusiasm and energy you enable us to support local older people which we could not do without you.
If you would like to know more about volunteering at Age UK Notts, please email us.