Walking Football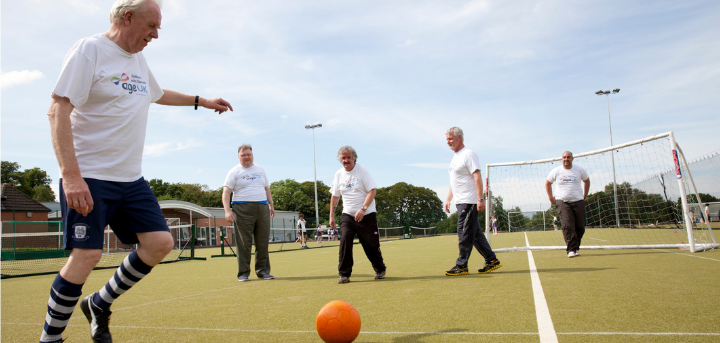 Published on 25 January 2022 06:00 AM
We're kicking off new Walking Football sessions in Beechdale and Eastwood and all February sessions are FREE!
Walking Football is a fun, friendly, and safe way to get physical. Whether you consider yourself a pro, or you've never kicked a ball before, Walking Football is a great opportunity to learn new skills, make new friends and enjoy being part of a team. The sessions are open to all, regardless of gender, age, or ability. Come along and add some excitement to your weekly routine!
What is Walking Football?
Walking football is a variant of football that is aimed at older people who, due to a lack of mobility or for other reasons, are unable to play the traditional game. Walking football was devised as a competitive sport by John Croot of Chesterfield FC and there are now thousands of Walking Football teams and sessions all over the UK!
The Age UK Walking Football Programme is funded in partnership with The FA and Sport England, who are investing money raised by National Lottery players into the programme. It's being delivered across England through local Age UK charities.
When and where do the sessions take place?
We are offering two, weekly Walking Football sessions.
Beechdale Sessions (Starting 31 January 2022):
Mondays 1 - 2 pm
Astro Kings, Harvey Hadden Sports Village, Wigman Road, Bilborough, NG8 4PB
Eastwood Sessions (Starting 2 February 2022):
Wednesdays 4.30 - 5.30 pm
Greasley Sports and Community Centre, Dovecote Rd, Newthorpe, Nottingham, NG16 3QN
How to take part
In order for us to monitor numbers, please book in advance. Sessions are free throughout the month of February 2022. After this, sessions will cost £3.
To book, simply contact Tracey Hall on 0115 8414488 or via email at tracey.hall@ageuknotts.org.uk