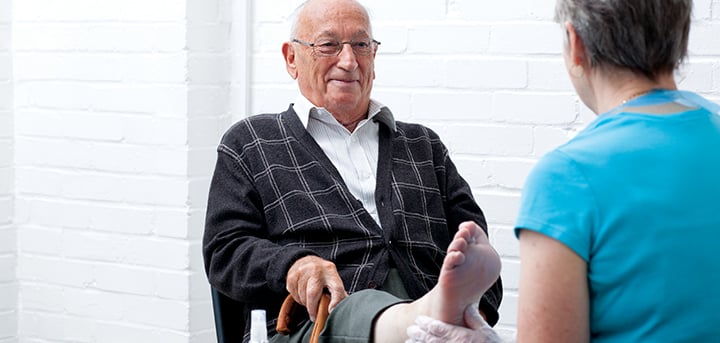 The Age UK Notts Footcare service helps older people who are unable to look after their feet.
It's essential that we all take good care of our feet in later life. Looking after our feet can lower our risk of having a fall, reduce our risk of infection, and relieve pain.
We work in partnership with CityCare to provide this affordable and accessible footcare service. Our simple nail cutting and basic footcare advice service is delivered by a small team of trained staff and volunteers. The service is for people aged 50+ who have a long-term health condition and do not qualify for NHS podiatry services.
Click here to download our footcare leaflet.
What do we offer?
The footcare service includes a short soak, nail trim, the filing of hard skin, and the application of cream.
Appointments last approximately 30 - 45 minutes, however the first appointment will be slightly longer.
We offer follow-up appointments at regular intervals.
Basic footcare information and advice.
Which area does the service cover?
Who is this service for?
People aged 50+ who:
have a long-term health condition
are not able to cut their own toenails
are registered with a Nottingham City GP
and do not qualify for NHS Podiatry Services.
How is this service delivered?
One-to-one sessions at six City locations
Where and when is this service delivered?
Mondays
St Ann's Valley Centre, 2 Livingstone Road, off St Ann's Road, St Ann's, Nottingham NG3 3GG
Sherwood Health Centre, Elmswood Gardens, Sherwood, Nottingham NG5 4AD
Tuesdays
Health Point, Top Valley Drive, Top Valley, Nottingham NG5 9DD
Clifton Cornerstone, Southchurch Drive, Nottingham NG11 8EW
Fridays
Sherwood Rise Health Centre, 31 Nottingham Road, Nottingham NG7 7AD
Old Basford Health Centre, 1 Bailey Street, Basford, Nottingham NG6 0HD
How much does this service cost?
Initial assessment (including the provision of a personal nailcare pack) - £22
Follow-up appointments - £16
What extra support do we offer?
Help to access other services, including NHS services where appropriate
An opportunity to meet and have a friendly chat whilst having a hot drink and biscuits
Access to information booklets and leaflets
Contact the team
For more information, or to access this service, please contact us on:
t 0115 697 6333
e ageuknotts.footcareservice@nhs.net
If you are a professional, please send referrals by email to: