Lest WE Forget
Published on 22 October 2016 01:19 PM
Supported by the Heritage Lottery Fund, Lest WE Forget remembers the Oldham soldiers whom a town forgot.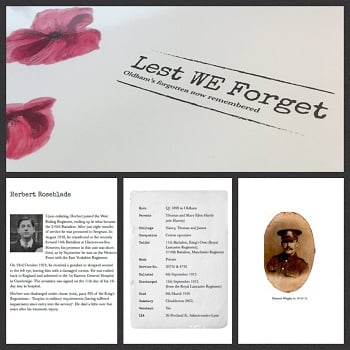 Many soldiers who left Oldham were young and eager but while all who returned were changed by the experience, some came home physically disabled or mentally scarred. Much of the burden of caring for the injured soldiers was placed on their families, as the establishment was reluctant to pay out pensions and rehabilitate them. Many of the graves of these servicemen now lie neglected and untended; their name may be absent from our cenotaph.
Sadly, Oldham forgot the contribution they made and the hardships inflicted upon them.
Lest WE Forget honours each of its forgotten WWI soldiers and promises that…
WE WILL REMEMBER THEM
Copies of the book will be available at George St Chapel after this date and also at future events - to be announced
The book will be available free of charge but there will be a recommended donation of £5.00, with all funds raised being split between the Oldham branch of the Royal British Legion and the Army of Angels charities.
Lest WE Forget has been supported by a grant form the Heritage Lottery Fund. Thanks to National Lottery players, we have been able to produce a book recognising the sacrifice of injured servicemen from Oldham who passed away after returning home.

Further information
Where the Lest WE Forget donations go