It's really important that the community is involved in deciding how our Ambition for Ageing investment money is spent.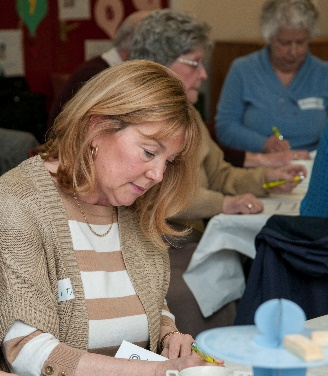 We like to get out and about in the community as we are trying to meet more and more people and spread the word. We have held events so we could meet local people and to find out what is good about the areas we are working in and what would make life better for people as they grow older. We have met some lovely and enthusiastic people along the way.
We've also held events where we've invited people with a specific health condition, e.g. people with sight loss or people who have had a stroke to tell us what would make their area more age-friendly from their perspective.
If you would like us to come and visit your group or meeting or coffee morning, please get in touch with our project team.
Your views are essential for making decisions about how our Ambition for Ageing investment money is spent. This includes Participatory Budgeting events, which is where people share their ideas for new 'age-friendly' projects and everyone votes to decide which ideas will be given funding to make them a reality.
Our decisions are made with the help of local people aged 50+ with a range of backgrounds and experiences. Decisions for smaller projects are made by our ward steering groups and decisions about bigger projects are made by our Age Friendly Project Group. The Age Friendly Project Group covers all 3 ward areas and is made up of people aged 50+ and professionals who work with people aged 50+.
If you want to get involved in decision-making we are always looking for new people to come along to our steering groups to have their say about the ideas that local people want us to fund.
Further information
More on our website
More on other websites