To inspire you on National Fitness Day we'd like to introduce you to Julie and Joyce, 2 of our fantastic walk leaders…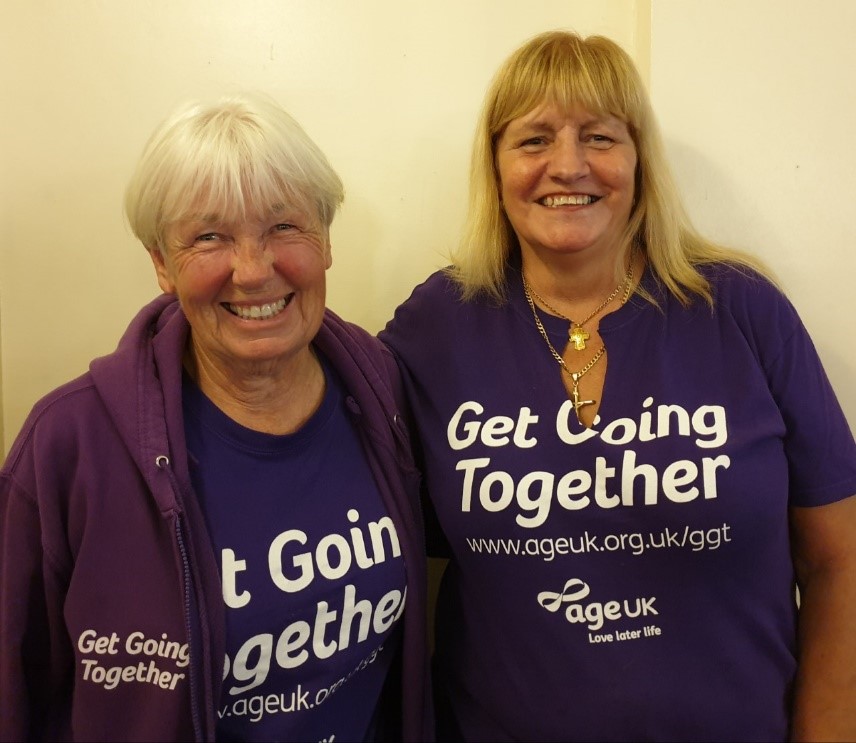 Julie
"Seeing people smiling helps to get you through difficult times."
Julie has been a walk leader for over 30 years, and a walk leader with Age UK Oldham for the last 4 years. Problems with Julie's health brought her back to walking and her determination to carry on walking at all costs is amazing.
"I first started with Rochdale Primary Care Trust and went back to it when I had to take early retirement from my manager's job at Sainsbury's after I was attacked at work. I went to join a walk and ended up re-doing my walk leader training and starting to lead walks again.
In 2013 I was involved in a freak accident which changed my life completely. They said I might be able to hobble but that I wouldn't be able to walk properly again. I just wanted to get back to it. I was desperate to have surgery even though I knew there were no guarantees. I went to the gym every morning to build the muscles up so that I would give myself the best chance possible.
People suggested I take up needle craft but they didn't understand how important walking and the outdoors was to me. I get so much happiness from volunteering as a walk leader. I'm a bit naughty and cheeky with the walkers, but I can get away with it! It's a different crowd each walk and we all get together afterwards and have a chat.
I get a lot of personal pleasure from seeing new people join and progress. Some people make such a lot of effort to take part and we see them progress through the different levels of walk.
We've recently introduced a new monthly walk which is followed by a lunch. The lunches are great because it gets people out to socialise and we have such a good laugh.
You feel part of a family and that spurs people on. They have something to keep coming back each week for and people who will worry about them if they're not there. One of our regular walkers passed away recently. Her daughter told me 'you changed her life so much for the better. She used to tell me she'd finally found a best friend after all these years.'"
Joyce
'We've become a family'.
Joyce recently became a walk leader and credits the walks with giving her back a sense of purpose.
I met my husband when I was 15 and we had been together for 48 years when he died of a rare form of cancer. I felt suicidal. I was at the end of my tether when I saw the walking group at Daisy Nook and asked if I could join them. I was really impressed with the way it was organised and how Julie treated people.
I started on the Daisy Nook walk and then joined the other walks as a participant. I wondered if I could help as the Monday walk was getting busier. I was 'kind of helping' already, making sure people were ok, so I went on the training. Julie was a great encouragement to me.
I have walked all over the world but to see older people out in the parks and getting out gives me such pleasure.
We don't have cliques. We swap about and walk with different people. We are just like a family and we make sure we introduce everyone. We have a lot of people who are really nervous when they first come. It's part of our role to reassure people. The support works both ways though. They don't realise what it's done for me.
Walking has changed my life and has given me a sense of purpose again. My family were so anxious about me after my husband's death. They were ringing me every couple of hours, but now they don't need to. It's only since doing this that I've felt at peace with myself. It's helping make people live again.