Intergenerational projects
Both older and younger people have valuable contributions to make to our community and our intergenerational projects bring them together.
Since 2000, we have been making new friends and forging links within the local community with many local schools taking part in our intergenerational projects, linking younger and older people together. Volunteers from Age UK Oldham work alongside students, schools and youth groups, recalling memories, exchanging skills and helping each other to get to know a different generation.
We examine a variety of periods of the older person's life. Childhood memories, school life and employment are amongst the popular topics our volunteers are asked to share with the young people, as well as playground games, where together young and old have enjoyed many favourites such as Peggy and Skipping Rhymes from yesteryear.
Wartime cookery is also an unforgettable experience for both the young and old. Working in pairs, the new intergenerational friends produce food from the time when rationing dictated our way of life - favourites such as carrot buns, eggless sponge and powdered cheese whirls brings the plight of millions of wartime mothers and children to life.
Local history is yet another focus that we examine, which gives our younger people a greater sense of belonging and pride to Oldham with students enhance their communication and ICT skills, along with their understanding of the past.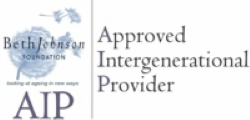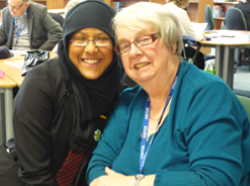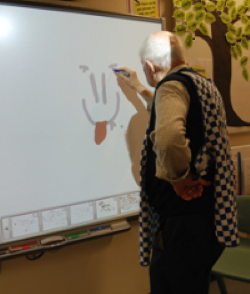 If you are interested in arranging an intergenerational project for your class or group, please contact us on the details below.
---
Contact
Maggie Hurley - Volunteer and Community Services Manager
Phone: 0161 622 9252 or 07557 276 518
Email: maggie.hurley@ageukoldham.org.uk


Further information
More on our website
More on the Age UK national website