We've been in The Plymouth Shopper
Published on 13 February 2018 02:07 PM
If you haven't already seen us, here is our advert we had published in the Plymouth Shopper. You can read the full text below.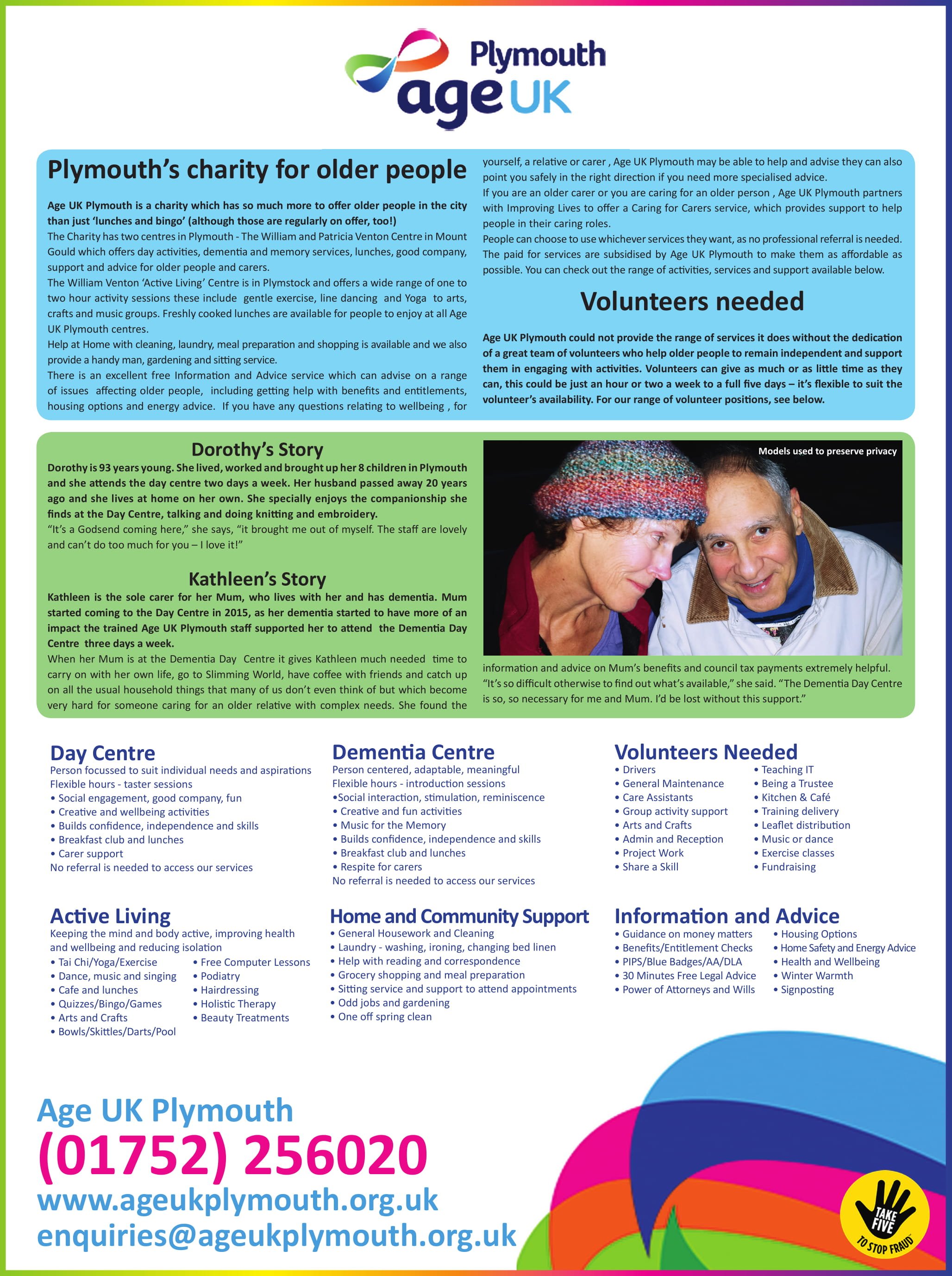 Plymouth's charity for older people
Age UK Plymouth is a charity which has so much more to off er older people in the city than just 'lunches and bingo' (although those are regularly on off er, too!)
The Charity has two centres in Plymouth - The William and Patricia Venton Centre in Mount Gould which offers day acti vities, dementia and memory services, lunches, good company, support and advice for older people and carers.
The William Venton 'Active Living' Centre is in Plymstock and offers a wide range of one to two hour activity sessions these include gentle exercise, line dancing and Yoga to arts, crafts and music groups. Freshly cooked lunches are available for people to enjoy at all Age UK Plymouth centres.
Help at Home with cleaning, laundry, meal preparation and shopping is available and we also provide a handy man, gardening and sitting service.
There is an excellent free Informati on and Advice service which can advise on a range of issues affecting older people, including getting help with benefits and entilements, housing options and energy advice. If you have any questions relating to wellbeing , for yourself, a relative or carer , Age UK Plymouth may be able to help and advise they can also point you safely in the right direction if you need more specialised advice.
If you are an older carer or you are caring for an older person , Age UK Plymouth partners with Improving Lives to off er a Caring for Carers service, which provides support to help people in their caring roles.
People can choose to use whichever services they want, as no professional referral is needed. The paid for services are subsidised by Age UK Plymouth to make them as aff ordable as possible. You can check out the range of activities, services and support available below.
Volunteers needed
Age UK Plymouth could not provide the range of services it does without the dedicati on of a great team of volunteers who help older people to remain independent and support them in engaging with acti viti es. Volunteers can give as much or as little time as they can, this could be just an hour or two a week to a full five days – it's flexible to suit the volunteer's availability. For our range of volunteer positi ons, see below.
Dorothy's Story
Dorothy is 93 years young. She lived, worked and brought up her 8 children in Plymouth and she attends the day centre two days a week. Her husband passed away 20 years ago and she lives at home on her own. She specially enjoys the companionship she finds at the Day Centre, talking and doing knitting and embroidery.
"It's a Godsend coming here," she says, "it brought me out of myself. The staff are lovely and can't do too much for you – I love it!"
Kathleen's Story
Kathleen is the sole carer for her Mum, who lives with her and has dementi a. Mum started coming to the Day Centre in 2015, as her dementi a started to have more of an impact the trained Age UK Plymouth staff supported her to att end the Dementi a Day Centre three days a week.
When her Mum is at the Dementi a Day Centre it gives Kathleen much needed time to carry on with her own life, go to Slimming World, have coffee with friends and catch up on all the usual household things that many of us don't even think of but which become very hard for someone caring for an older relative with complex needs. She found the information and advice on Mum's benefits and council tax payments extremely helpful.
"It's so difficult otherwise to fi nd out what's available," she said. "The Dementi a Day Centre is so, so necessary for me and Mum. I'd be lost without this support."