Joining Forces Portsmouth
Joining Forces Portsmouth provides free befriending support and a range of social activities for lonely or isolated military veterans and their dependants in Portsmouth and the surrounding area.
Our aim is to help older veterans stay independent and have greater confidence by providing friendly social contact, support and companionship.
How will this be done?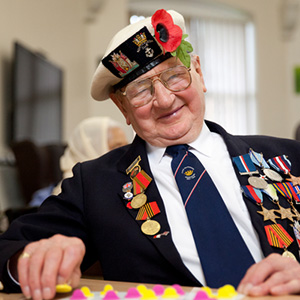 We will carry out an initial assessment with the veterans to discuss their needs, desires and personal goals so that we can provide the best match with one of our trained volunteers.
Our volunteer befrienders, many of whom have a Forces background themselves, will provide anything from chatting about service life or the 'good old days', to helping someone feel more confident using computers and mobile phones, to going out for a walk or introducing people to clubs and other social activities.
The frequency of contact will depend on the support needs of each individual.
Befrienders may initially accompany veterans to events in the community but ultimately our aim is for them to gain the confidence to attend social groups and activities independently.
How much does the service cost?
The befriending service is provided completely free of charge.
Veterans' Breakfast Club
We run a Breakfast Club for veterans at the Bradbury Centre which takes place on the second Thursday of every month from 09:00 to 11:00. All ex-service personnel are welcome to come along, together with their partners, to socialise with other veterans, take part in the banter and enjoy a great breakfast.
Spaces are limited for the Breakfast Club so we recommend that you give us a ring in advance to confirm your attendance and ensure that we can accommodate you.
Veterans' Coffee Club
We also have a Coffee Club for veterans at the Bradbury Centre which is held on the last Thursday of each month from 14:00 to 16:00. We will have occasional guest speakers and attendees will be welcome to bring along photographs and other memorabilia to share their memories of their days in the service with other veterans.
We need more volunteers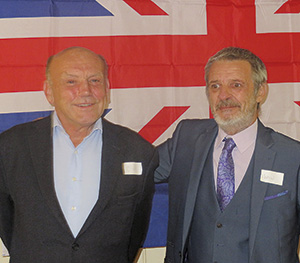 Ideally we are looking for people with a Forces background, but anyone who can spare an hour or two a week to meet with an older veteran in person or chat over the 'phone, will be welcomed.
Volunteers will need to undergo a DBS (Disclosure and Barring Service) check and we will do our best to ensure that our volunteers are well matched to each individual according to interests, location and preferences so that they can best help them to reconnect with social networks and overcome the problems of loneliness and isolation.
Who to contact
For further information about the Joining Forces Portsmouth service please call Age UK Portsmouth on 023 9288 3506 or email kandy.lucas@ageukportsmouth.org.uk.

Joining Forces Portsmouth is funded by the RAF Benevolent Fund.