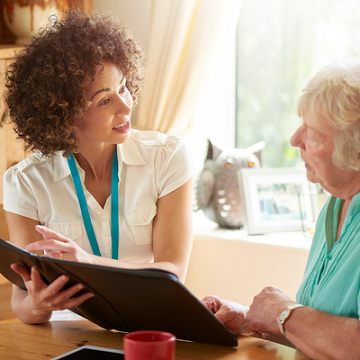 Age UK RBH is pleased to support the delivery of My Health Matters Service from 1st April 2021, building on the success of this community project which started in Havering in 2014 and has helped to improve the health awareness of local residents by recruiting and training Health Champion Volunteers to provide signposting to relevant services and resources as well as support residents to adopt healthier lifestyles.
We welcome applications for Health Champion Volunteers from all sections of the community from anyone aged 18+ either living or working in Havering with an interest in health and wellbeing. A background in health isn't necessary but you'll be required to attend and pass a free one day accredited course or two half days online accredited training, leading to an RSPH Level 2 health qualification.
Once qualified you'll have the opportunity to attend further training to learn more about topics such as healthy eating, physical activity, mental health and cancer awareness and attend focus groups to discuss feedback on relevant topics. As a Health Champion you will receive excellent quality training, support and guidance from our dedicated My Health Matters staff to equip you with confidence and tools to promote health and wellbeing within the local community, encouraging local people to make positive choices to improve health.

Benefits to becoming a Health Champion Volunteer:
• Become a positive influence in your community by helping local people to look after their health and make informed choices about their wellbeing
• Enhance your knowledge and skills on health issues and local support services
• Access free, high quality accredited training with the option to gain further qualification
• Meet new people and be part of a peer support network
• Help to reduce health inequalities in the local community

For more information about the service please call My Health Matters on: 07538 798478/07985 105528 or email: myhealthmatters@ageukrbh.org.uk
You can also downlead our leaflet below.