Netta volunteering at 95!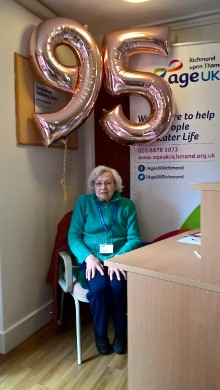 Published on 28 March 2018 12:38 PM
We met with Netta on her special day to celebrate her 95th birthday and find out more about our oldest volunteer!
Why do you volunteer for Age UK Richmond?
Age UK Richmond are very friendly and I've always felt very welcomed.
How long have you volunteered with us?
I have volunteered for Age UK Richmond for 15 years. I started volunteering when I was 80 at Meadows Hall and now volunteer two mornings weekly at the Twickenham Wellbeing Centre on the main reception desk.
What did you do before volunteering?
I have been a volunteer all of my life actually, since the end of World War II! I volunteered in a lawyers office, for meals on wheels and Queen Mary's Hospital for 15 years in the office sending out letters. I was Chairwoman for the League of Jewish Women and also for Hammersmith Synagogue Friendship Club. I volunteered for Dr Barnardo's where I was Secretary to the twin sister of the Bishop of Winchester and was minute taker for the Board of Governors – I took notes for Michael Tetley (Tetley Tea Bags!), Lady Ogilvy (advertising giant!) and Hilda Martindale (a suffragette). When my husband passed away in 1983 I volunteered in a jewellery shop, but it became difficult standing for long periods of time and that's when I joined Age UK Richmond.
What is it you like about volunteering?
I enjoy helping others, keeping active and independent and meeting new people. It keeps my brain working!
Tell us something about yourself that would surprise us…
Believe it or not, I am very shy! That's another reason I love volunteering here, it has built my self-confidence. You have to be confident manning the reception desk and phone and get to know everyone.
What do you like to do in your spare time?
I like to read, look after my house and I used to enjoy knitting and cooking when I was able to.
Have you lived in this Borough for long?
Yes I've lived in this Borough for a very long time, in fact I've lived in the same house in Barnes for 63 years! A lot has changed but I still have the same wonderful taxi driver who brings me to the centre twice a week and he even buys my sandwich for lunch before he collects me. I'm quite well known to the local residents and I think everyone at the Twickenham Wellbeing Centre knows me!
Any advice for people thinking about volunteering?
You're never too old to volunteer!
What's your secret to being healthy and happy at 95?
Take each day as it comes and keep mentally and physically active.
Centre Manager, Janet Thompson says 'Netta is so loyal that this is her job. She's here come rain or shine and volunteers up to three days a week to cover for others sometimes. Netta is incredibly reliable and will never let us down – an inspiration to all of us."