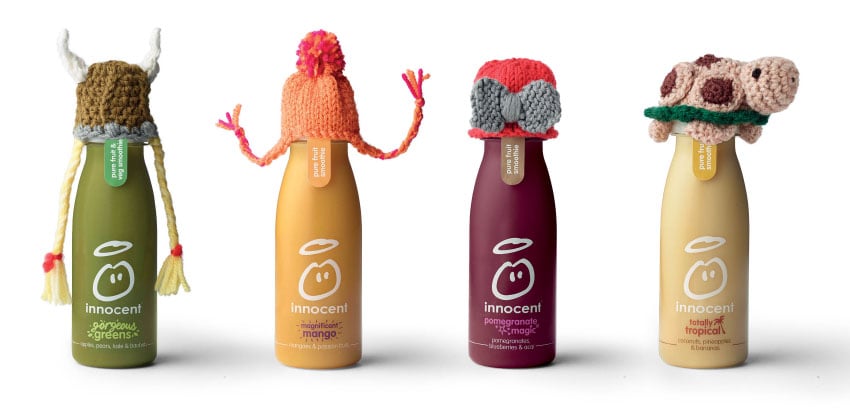 WE NEED KNITTERS!!!
Would you like to knit tiny hats and help raise money for Age UK Richmond? It's fun and easy to join in, and you'll be part of a huge team of knitters helping us to raise funds for a great cause.
What is The Big Knit?
It's a joint campaign between the national charity Age UK and Innocent Drinks to raise funds to help vulnerable older people. Over the last 10 years or so, knitters have raised around £2million for Age UK.
Innocent Drinks gives Age UK Richmond 25p for each mini hat sold (on a smoothie bottle), so we want to knit as many as possible.
How you can help Age UK Richmond
We are aiming to collect 5,000 hats by July 2019 so:
Get yourself some needles, wool and your favourite chair.
Choose from one of the many patterns available or make your own hat.
Send us a pledge to say how many hats you or your knitting group are planning to make.
Get knitting!
Package up your hats and send or deliver them to us – or give us a call and we'll come to collect them.
Please send or deliver your hats to:
Sue Hollins: Age UK Richmond, Suite 301, 3rd Floor, Parkway House, Sheen Lane, East Sheen, London, SW14 8LS or alternatively you can drop off at one of our Social Centres
If you don't want to or are unable to knit, but still want to help:
We are accepting donations of wool and knitting needles.
Spread the word about our knitting campaign – use #thebigknit2018 on social media.
What to do next
We'd love you to make a pledge here to let us know how many hats you can knit. If you need to contact us about patterns, donations or completed hats, please call us on 020 8744 1965 or email susan.hollins@ageukrichmond.org.uk
Join our Knitting events!
A chance for knitters or crochet people to get together and help make the tiny Innocent Smoothie hats. The events are:
Tuesday 5th March at the Ebay offices in Richmond (12-3pm). Come and join Ebay staff at their lovely offices in Richmond for a Knitathon and refreshments. We will provide all the wool you will need! Our patterns range from beginners to advanced, so something for everyone. We also need pom pom makers if knitting isn't your thing!
Tuesday 19th March in the café area at Richmond Adult Community College, Parkshot. Come and join us for a tea, chat and knit from 10-30am – 12.30pm.
Please call us in Community Services to register for these Get-Togethers: 020 8744 1965 or email communityservices@ageukrichmond.org.uk
Thank you for your support!