Care and Support Services Social Centre Update 27 March 2020 – Coronavirus (Covid-19)
During this period of restricted movements to try and reduce the spread of the Coronavirus (Covid-19) to people over the age of 70 we have, unfortunately, had to suspend some of our Care and Support Services to protect both our customers and our staff.
This means that we have had to temporarily close our Social Centre activities for the time being.
We will continue to post updates on our website and on Twitter and Facebook as things develop so please keep an eye on social media or ask family or friends to check for updates for you.
Age UK Rotherham has been providing Day Services for older people since February 1985.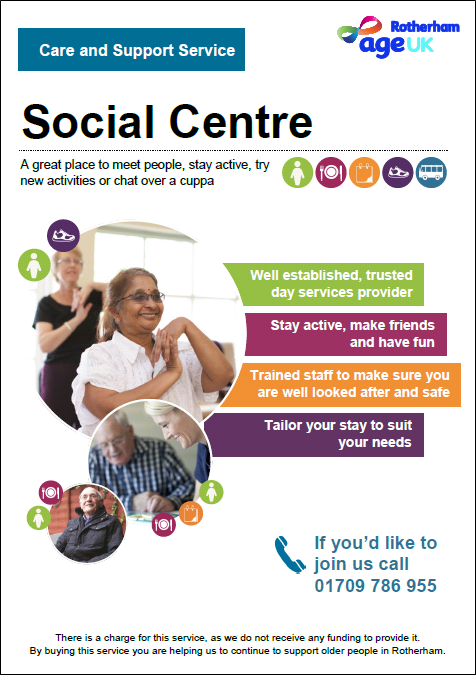 Our Social Centre, based at Lord Hardy Court in Rawmarsh, offers variety, fun and companionship and when used as part of a care plan can help older people to remain healthy and well. It is important to offer choice whilst enabling people to retain their dignity and independence.
Our Social Centre provides social interaction and stimulation to relieve loneliness and isolation with the opportunities for people to meet new friends, remain more active, receive advice and information on other services provided and to learn new skills.
We can offer:
A choice of menu for your lunch time meal.
Other light refreshments are provided free of charge, throughout the day.
A choice of activities based on individual choice.
Opportunities to improve your personal wellbeing:
Hairdressing service available to book
Take part in gentle exercise
Age UK Rotherham prides itself on our reputation of having well trained caring staff and volunteers to meet your requirements.
If you would like to attend you can be referred via your Social Worker or yourself or by a relative.
If you have an assessed need you may be entitled to a direct payment to pay for this service.
Full, part time and hourly vacancies are available.
Contact us
For further information on the services, cost, direct payments and how to book a place please contact:
Age UK Rotherham, Galax Business Centre, Eastwood Trading Estate, Fitzwilliam Road, Rotherham S65 1SL
Or, call the Care and Support Service Team on 01709 786 955
Email: csssupport@ageukrotherham.org