Nutrition & Hydration Week 2020
16th - 22nd March 2020
Nutrition and hydration week is celebrating food and drink and the important role they play in our health, energy levels and quality of life.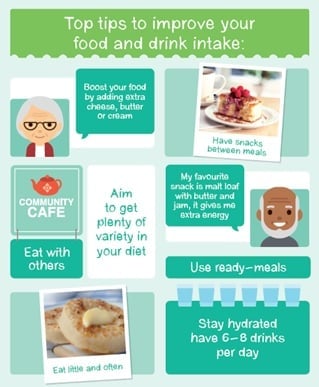 As we get older, it can be harder to maintain a healthy weight and good hydration levels.
We would like to use this week to highlight the importance of good nutrition and hydration in older age and we would love you or your organisation to get involved.
Here are some ideas of what you can do
Host a coffee morning, a lunch, an afternoon tea or just a gathering and consider doing one of the following:
Does your group like to play games?
Why not try our "Food for Thought" Game?
Play "Hook-a-duck"
Play nutrition and hydration Bingo
Host a nutrition quiz
Do you or your group like to get creative?
Download food knitting patterns and get your group knitting
Prepare food. This is a great way to stimulate the senses. For example, you could make a fruit salad, prepare sandwiches, wash and peel vegetables or ice and decorate cupcakes
Play a food blind taste game. Prepare a few foods, use a blindfold and ask people to guess what they are tasting
Host a "Bake off" competition – ask members of your group or community to bake and use a judging panel to pick the winner
Do you or your group like to chat?
Use our conversation starter sheet to encourage conversation in your group around food and drink
Do you or your group like to learn?
This is great for healthcare professionals. Why not hold a lunch and learn to talk about the importance of nutrition and hydration?
Do you like to post on social media?
Tag us in your posts, we are @GMNandH and follow us to receive messages and ideas from us. Don't forget to post pictures. Follow @NHWeek and #NHWeek
Nutrition and Hydration Resources
Download our Nutrition and Hydration Resources.
Resource Packs are available and include:
Posters x 2
PaperWeight Armbands x 10
Eat, Drink, Live well booklets x 10
Signs and symptoms leaflets x 10
Cupcake toppers x 10
Request packs from: Emma Rose - EmmaRose@ageuksalford.org.uk. or the programme manager in the area you work.
Programme Managers
Nutrition and Hydration Week Resources
Use these resources during Nutrition and Hydration Week. To start the conversation and to have fun.