*Following Government guidance, currently our social groups are suspended until further notice.**
Mount Chapel Champions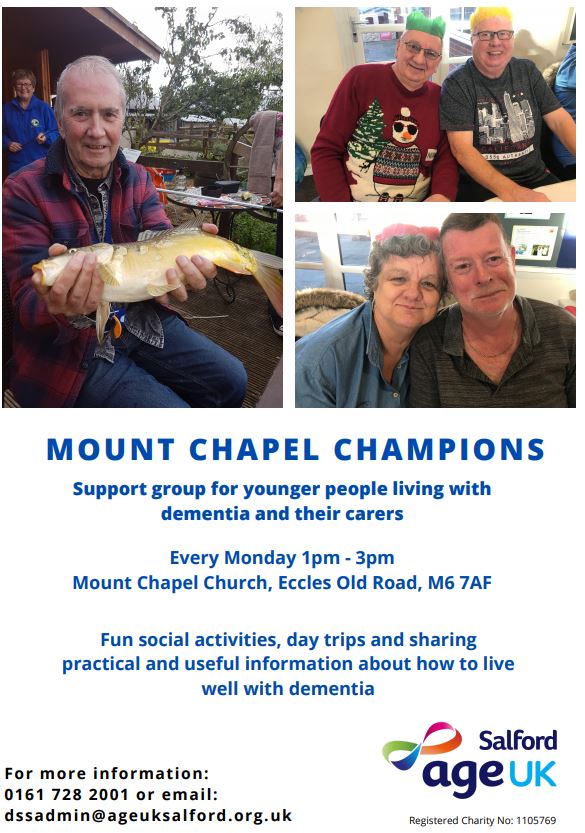 Support group for younger peole living with dementia and their carers

Every Monday 1.00pm - 3.00pm
Mount Chapel Church
Eccles Old Road, M6 7AF
For information, call: 0161 728 2001 or email: dssadmin@ageuksalford.org.uk
Lunch and Chat
Free Lunch and bingo
Elmbank Masonic Hall
Half Edge Lane
Eccles
M30 9RE
The last Thursday of each month: Next dates are: 26th March, 30th April.

Booking neccssary. Book on 0161 789 3736.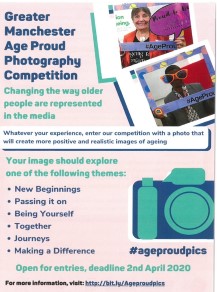 Greater Manchester #AgeProud Photography Competition
The competition challenges the stereotypes around ageing and is seeking entries.
The closing date is: 2nd April 2020.
Find out more about the competition.
Coffee & Chat for LGBT Over 50's
In the Cafe at

11.00am - 2.30pm
2nd Thursday of every month.
Salford Museum & Art Gallery
The Crescent
Salford M5 4WU