Age UK Salford Annual Boat Race
Saturday 21st September
Celebrating #WorldAlzheimersDay.
A fun-filled family event at Salford Water Sports Centre.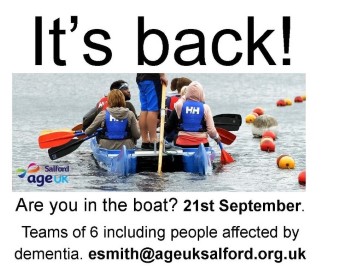 Dementia Friendly Nature Walk
Tuesday 24th September 2019 at 11am
A relaxed walk in Peel Park - meeting at Salford Museum & Art Gallery
Book with Miranda at City of Trees on: 0161 872 1660 or book online here.
Carer Workshops
Free workshops for people who care for a loved one living with dementia

.