Cleaning and Shopping Service
Our Cleaning and Shopping service supports you to stay independent in your own home by providing you with help with everyday chores.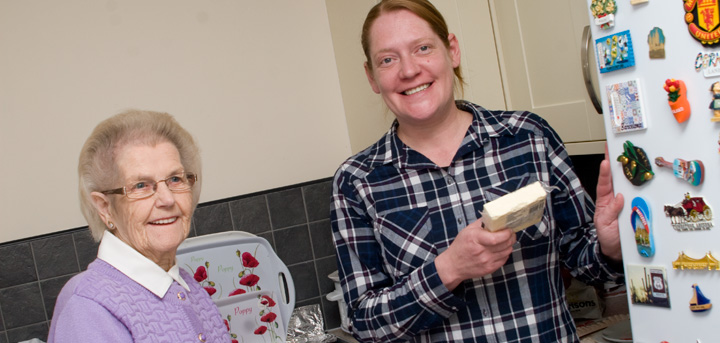 Age UK Salford's Cleaning and Shopping Service provides you with a regular visit to help you with the domestic tasks that you may find challenging, or that you would prefer to no longer do yourself.
You can tailor the service to suit your needs, from as little as one hour every fortnight, up to two hours or more each week.
Our general household cleaning service can include kitchen and bathroom cleaning, polishing, dusting, vacuuming, bed linen changes, mopping and internal window cleaning.
Shopping Service
We also offer a shopping service if you are unable to shop for yourself and would like regular shopping done for you. Simply prepare a list of the items you want and provide our Home Services Assistant with sufficient money to cover the cost of your purchases. Our Home Services Assistant will go to the shop/supermarket of your choice and bring back your shopping and any change. If you want, they can help you put your shopping away.
Who can use the Cleaning and Shopping Services?
If you, or the person you are buying the service for is a Salford resident aged 55yrs or older, you can use our service.
How much does it cost?
The cleaning and shopping services both cost £15.50 per hour (price correct as of 01 May 2018). If you are using the shopping service, you must also provide the money for the shopping you require before each shopping visit.
Payments can be made by cash or cheque, directly to the Home Service Assistant each time they visit you for a cleaning session or shopping trip. Alternatively you can pay by card over the phone by calling 0161 788 7300, or arrange for a monthly invoice to be sent to you/the person paying for the service.
How do I access the service?
You can contact our Cleaning and Shopping Co-ordinator to discuss your service requirements on 0161 788 7300 or email homeservices@ageuksalford.org.uk
Before you commit to the service, our Cleaning & Shopping Co-ordinator will visit you in your own home to discuss your individual requirements.