Thanks to funding from the Big Lottery, older people in West Bromwich now have a Creative Hub providing free refreshments, a chance to use I.T. tablets to access the internet, learn about information technology, gain free support for digital technology problems or queries, try new activities, and enjoy companionship on Thursday afternoons.
Based at the Wesley Community Centre, at the rear of the Wesley Church, High Street West Bromwich, The Creative Hub for Older People is now open Monday to Thursday with different activities taking place at various times. (See below for further details). Julie O'Toole, Chief Executive of Age UK Sandwell said "I am delighted that by working with our partner agencies in Sandwell, and with the dedicated support of our volunteers, Big Lottery funding has enabled us to provide this free facility for older people in West Bromwich".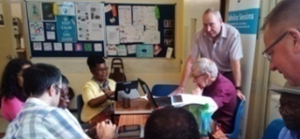 Digital Drop in sessions continue as usual every Thursday Afternoon 1- 3pm with most sessions supported by Age UK Sandwell's Information and Advice Manager, Gary Overton.
Healthwatch will be present on January 18th, February 15th and March 15th.

In addition to this there are other activities including walking football, mens group, art group, craft group, cinema club, tea dance and safety talks.
search @creativehubforolderpeoplewb for all the latest information.

All activities are Free thanks to Big Lottery funding and you can drop in for individual sessions or come to all of them.