Blog: Support to stay warm and well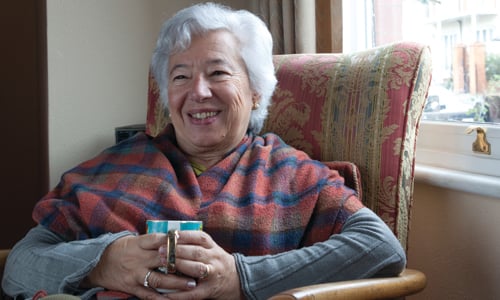 Published on 08 January 2021 10:47 AM
After a difficult year with a lot of time spent at home, the prospect of more cold, dark months is enough to get you down.
But there is a lot you can do to look after yourself and your home, and remember that after 21st December, there is a little more daylight in our skies every day.
To stay warm and well you can:
Keep moving – did you know that sitting still is bad for you? If you can move about, try not to sit still for more than an hour at a time. Need some inspiration when it's too wet to go out? Have a look at Around The House In 80 Days for fun activities that will help you to stay flexible and strong at home.
Eat well – it's definitely not the season for salad fresh from the fridge but there are plenty of online recipes to tempt your appetite, including at BBC Good Food Recipes from well known chefs.
If you're not too interested in food or not really motivated to cook, have a look at our Eat Well guide for information and ideas about food, and who can help if you have problems with eating a balanced diet.
Make sure you are getting enough vitamin D; the sunshine vitamin is in short supply in winter. You can find official advice about vitamin D here.
Stay connected – having time to yourself can be a good thing, but people were born to communicate and it's bad for your health if you don't have people to talk to, or to listen to you. Call our friendship line on 0800 12 44 222 to chat to one of our friendly team. If you want to know about who you can talk to locally too, they can help you to find out.
Keep up with medical appointments – coronavirus has taken the medical headlines for many months, and many NHS services have been affected as NHS priorities had to be changed to try to keep us safe. But if you needed support to manage a long-term condition or health problem before coronavirus you still need help now, so when you are offered vaccinations or your routine appointments restart, take your opportunity to stay as well as you can be.
Our guide to NHS services for older people explains what the NHS can do to help you, or check out NHS Inform for advice about your health, tests, treatments and your rights.
Remember to wash your hands regularly - we've been told this a hundred times, but it is excellent advice!
Stay cosy – it is tempting to turn down your heating to keep your bills down, but you need to stay warm to stay well; being too cold puts you at risk of colds, flu and hypothermia.
For the rooms where you spend most of your day, try to keep them at a steady temperature of 23 degrees Celsius, especially if you cannot move around much. Wear layers of clothes, close curtains at night and balance ventilation so you get some fresh air in without letting too much cold air in, especially at night. If you are having work done in your house, make sure there is plenty of ventilation to reduce the risk of Coronavirus.
There are benefits, grants and schemes which may help make your home more energy efficient and reduce your heating bills. Contact Home Energy Scotland for information and advice on how you can save money and energy and make your home warmer.
Stay stocked up - there is always peace of mind from having a well-stocked cupboard but it's more important than ever when any of us may need to self-isolate for a while. Our Eat Well guide suggests a well-stocked cupboard should include:
vegetable oil – for frying and roasting
olive oil – for frying, roasting, and salad dressings
soy sauce – for stir-fries and for adding a salty flavour
tomato puree – pizzas, pasta sauces, lasagne… the list of uses is endless
rice – try brown rice – it's better for you and has more flavour
lentils – a good standby for soups and casseroles
pasta – penne, spaghetti and tagliatelle should work for most basic recipes
dried spices – curry powder, dried chillies, turmeric, paprika and your favourite flavours
dried mixed herbs – thyme, basil, rosemary and your favourites
stock cubes –for soups, sauces etc.
chopped tomatoes – for cottage pie, lasagne or pasta
Keep some treats in your cupboard too!
You can also get an Easy Store Cupboard Recipe booklet from Eat Well Age Well.
Keep an eye on your money – winter food, winter clothes, even drying your washing can cost more in winter. It's also the time of year when your house can spring nasty surprises such as leaks, damp and draughts. To keep on top of things:
The Age Scotland Helpline
Call our helpline on 0800 12 44 222 for free to speak to an adviser. Open Monday to Friday 9am - 5pm.