Heritage Lottery Fund joy for older people's charity
Published on 07 December 2018 08:00 AM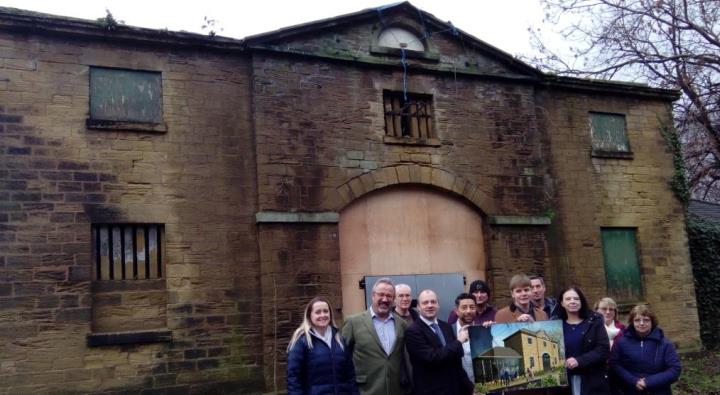 The planned redevelopment of a derelict listed building in Hillsborough Park has received initial National Lottery support*, it was announced today.
Age UK Sheffield plans to renovate the 18th Century Old Coach House building into a dementia-friendly older people's centre, and café open to the entire community. The project has received development funding of £49,700 from the Heritage Lottery Fund. Thanks to National Lottery players this award will enable the local charity to progress the plans and apply for a full National Lottery grant at a later date.
The project aims to create a vibrant hub to support dementia-friendly group activities such as singing and dancing, as well as classroom-based activities and educational classes such as digital drop-ins.
The community café will be open to the thousands of local park visitors, including dog-walkers, children's playground users, and Park runners. It aims to provide local employment and volunteering opportunities in the Hillsborough area and introduce people to the Walled Garden and other heritage within the park.
Age UK Sheffield Chief Executive, Steve Chu, said: "This is absolutely fantastic news. Thanks to National Lottery players we have a real opportunity to develop The Old Coach House into a thriving community venue for older people in Sheffield and local people in Hillsborough. Importantly, through this project, we can bring back into use a derelict listed building that would otherwise soon be lost."
_______________________
Notes to editors: Age UK Sheffield is a local charity, based in Sheffield, supporting people aged 50 and over in the city. Last year the charity supported over 4,000 older people, helping to bring in £2.9 million additional benefits into the local economy.
About the Heritage Lottery Fund
*HLF Heritage Enterprise Fund applications are assessed in two rounds. The Old Coach House has initially been granted round one development funding of £49,700 by the Heritage Lottery Fund, allowing it to progress with its plans. Detailed proposals are then considered by HLF at second round, where a final decision is made on the full funding award of £631,200.
Thanks to National Lottery players, we invest money to help people across the UK explore, enjoy and protect the heritage they care about - from the archaeology under our feet to the historic parks and buildings we love, from precious memories and collections to rare wildlife. www.hlf.org.uk. Follow us on Twitter, Facebook and Instagram and use #NationalLottery and #HLFsupported.