Gift A Smile: A Corona Virus Campaign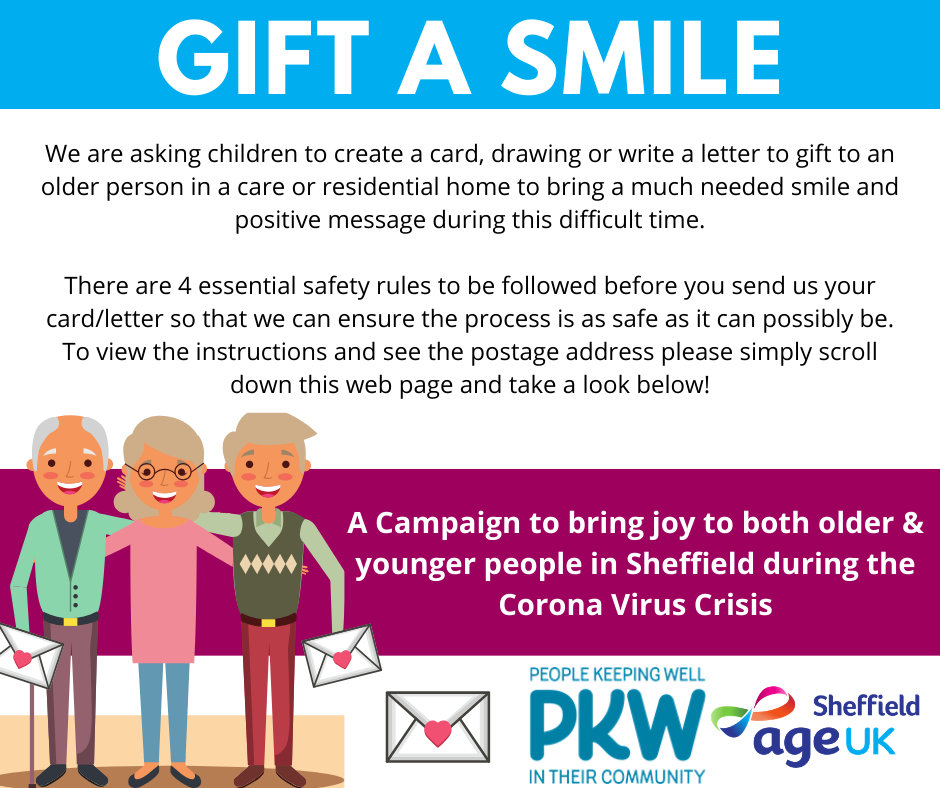 On behalf of Age UK Sheffield and The People Keeping Well in Dore and Totley we are launching the Gift A Smile Campaign. We are asking children across the area from home or at school to create a gift in the form of a letter, card, drawing or painting which can be distributed to local Nursing Homes, Residential Homes and Independent Living facilities to bring a much needed smile and positive message during this difficult time. Facilities are not currently allowing any friends or family to visit their loved ones, we hope that by surprising them with gifts from children we will spread a smile and give them a much needed moment of joy.

Safety Rules
There are 4 essential safety rules to be followed before you send us your card/letter:
Please ensure that you & your child have washed your hands before handling any card or paper

Please don't use textured card or paper or add any material to the front to the card which may hold onto the virus for longer than flat surfaces, this includes glitter

Please do not lick the envelope, instead use sellotape to secure it

Please oversee the content of any text and ensure the content is appropriate for the recipient
Please note: All gifts/envelopes will be held for five days to ensure that any potential trace of the virus is no longer live and sprayed with anti bac spray before delivery.
Once you have completed your gift please post it to us during your daily exercise time.

The address is:
Gift a smile
PO Box 5994
Dronfield
S18 9DY
Once we have distributed to the local area, we will distribute any surplus extra gifts (letters/cards/drawings) to the list of older people who are self isolating and who are receiving our urgent food bags as part of our urgent fundraising appeal. So, please do get involved and help us bring a smile to as many people as possible!
If you are unable to leave the house due to sheilding/social isolation or have a large number from a class of school children, please let us know and we will try our very best to collect them from you doorstep. If you have any questions at all about the Gift a Smile Campaign, please email joanna.woodward@ageuksheffield.org.uk
We've Expanded our Gift a Smile Campaign!
We want to do as much as possible to support the people who need it most, and that includes people with dementia.

Can you knit? Do you enjoy a bit of DIY?
Could you use some of your lockdown time to make some twiddle muffs, blankets, cushions & DIY boards for people living with more advanced dementia in care homes around our city?
So many people living in care homes are having to stay in their rooms to stop the spread of infection. Activity staff are depleted along with general care staff. We know that despite staff's best efforts, many of the people living with dementia will be feeling incredibly bored, confused and very sad. Unfortunately, for a lot of these people, crosswords, wordsearches, jigsaws etc. just aren't appropriate, especially when having to spend so much time alone.
Having something tactile & sensory to occupy hands can help. It's not ideal, it's not saving lives, but it's something to bring some help and comfort people who have very little.

Twiddlemuffs
Not sure what a Twiddlemuff is? Essentially it is a thick, knitted hand muff that has all sorts of its and bobs attached. It helps to provide stimulation and comfort. Twiddlemuffs provide a source of visual, tactile and sensory stimulation at the same time as keeping hands snug and warm.
SATH NHS Trust have a great web page that includes examples and patterns. Simply click here to view
DW've included a few images below to inspire you! But, if you have any questions or if there's anything we can do to help you, please get in touch!
If possible, please post to:
Gift a smile
PO Box 5994
Dronfield
S18 9DY
Or, contact us and we can come and collect!
Pkease contact Natatsha Wilson: natasha.wilson@ageuksheffield.org.uk
Or give us a call on: 0114 250 2850

Examples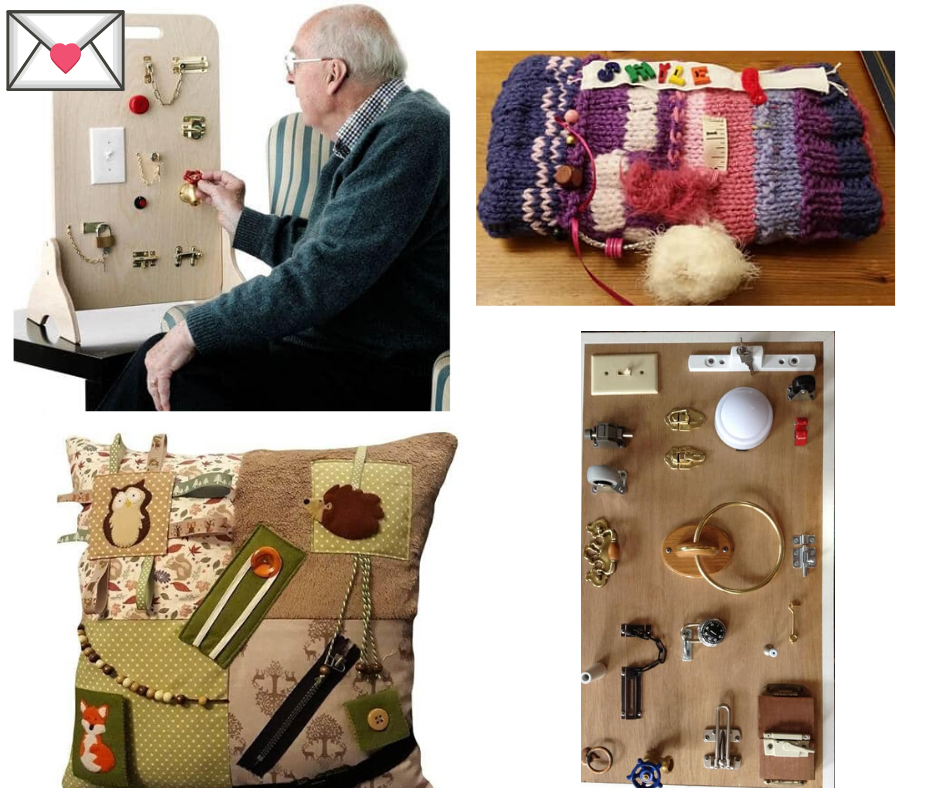 Items that have already been sent in
(check out our facebook page for more!)