3000 hats and counting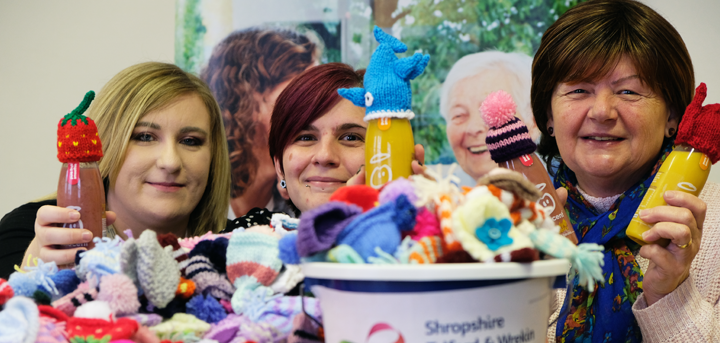 Published on 08 November 2018 09:17 AM
Age UK Shropshire Telford & Wrekin's winter campaign, The Big Knit, is off to a fantastic start.
The Big Knit is a joint campaign between Age UK and innocent drinks to help vulnerable older people keep warm during the winter. Age UK Shropshire Telford & Wrekin has a target of 6580 hats to be knitted and sent to innocent by 31 July 2019. The little hats are then placed on the top of smoothie bottles and for every smoothie sold, we receive 25p.
We have already enlisted lots of knitting groups to help with one particular group of people from Oswestry who have been knitting all year.
Gemma Manning-Bentley runs a jewellery studio in Oswestry called Gemmipop Designs. Over the last seven years, Gemma has participated in the Big Knit growing a community of Oswestry knitters to knit alongside her and raise money for local older people.
This year Gemma and her mum Libby delivered the final count of 3080 hats to the Age UK Shropshire Telford & Wrekin office in Mardol Gardens, Shrewsbury.
Gemma said: 'I was inspired to knit the hats after my husband found a hat on an innocent smoothie bottle and suggested I may be able to help, so I decided to get a community of knitters together. My group of ladies really enjoy meeting up and we have some fun trying out different knitting patterns.'
If you would like to get involved in the Big Knit to raise money for local older people, call Angela Goodman on 01743 233 123 or email her at enquiries@ageukstw.org.uk