Christmas trolley dash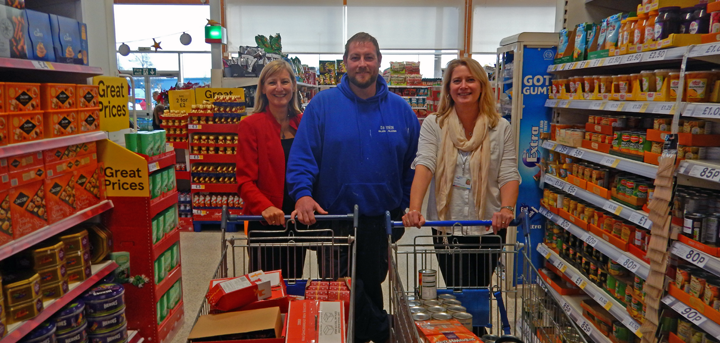 Published on 18 December 2018 01:10 PM
Darwin Glass and Glazing generously funded a Christmas trolley dash at Tesco Shrewsbury earlier this month in support of Age UK Shropshire Telford & Wrekin.
David Jenkins, owner of Darwin Glass and Glazing, recently contacted us keen to provide some support for older people in the county, and particularly in the run up to Christmas. His kindness resulted in two trolleys full of a whole variety of food items amounting to several hundreds of pounds. Members of some of Age UK Shropshire Telford & Wrekin's 39 day centres across the county will receive the presents in the weeks before Christmas.
David said: 'I want my children to understand the importance of helping others and particularly older people. I have fond memories of spending time with my grandparents, and it's important to me that older people know they are being thought about.'
From Christmas puddings to chocolate, crackers to tins of fruit, Rachel Benson, Community Champion for the Tesco Extra Shrewsbury store, was on hand to expertly guide the trolley dashers through the store and check for further stock.
Heather Osborne, Chief Executive of Age UK Shropshire Telford & Wrekin, said: 'We want to thank both David for his generosity, especially at this time of year and Rachel for her support in store at Tesco Extra Shrewsbury. Older people in our day centres will be thrilled to receive such a wonderful and unexpected variety of treats and David's thoughtfulness is very much appreciated.'