Flying high for dementia support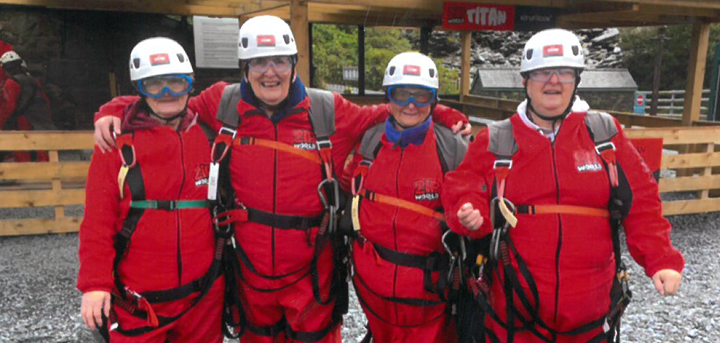 Published on 05 June 2019 10:54 AM
70 year old Carol Morgan raised £700 by soaring over Penrhyn Quarry at 100mph on a zip wire, to help local dementia support services.
Carol Morgan wanted to do something different to celebrate her 70th birthday, so she asked friends and family to sponsor her, to raise funds for Age UK Shropshire Telford & Wrekin's support services for people living with dementia. Her two sister-in-laws, Christine Powell and Jeanette Morgan, accompanied Carol for the zip wire challenge last year along with her niece Sharen Jones.
Carol said: 'We all wanted to do this to support people living with dementia, we are a close family and we've all been affected by the illness so we felt it was important to do something that would make a difference to people living with dementia and their families. Our families and friends have been very supportive of the challenge we set ourselves and we thoroughly enjoyed it whilst raising funds for the local charity.'
Heather Osborne, Chief Executive of Age UK Shropshire Telford & Wrekin, said: 'Huge thanks to Carol and her family for their fundraising efforts. I think it's fantastic that Carol fundraised whilst doing something rather extraordinary and exhilarating and loved every minute of it. The donations received from Carol's family and friends will be put towards our dementia support services.'
If you'd like to take part in a challenge event raising funds to support local older people, please contact our fundraising team at Age UK Shropshire Telford & Wrekin on 01743 233 123.