An evening with Dr Lucy Pollock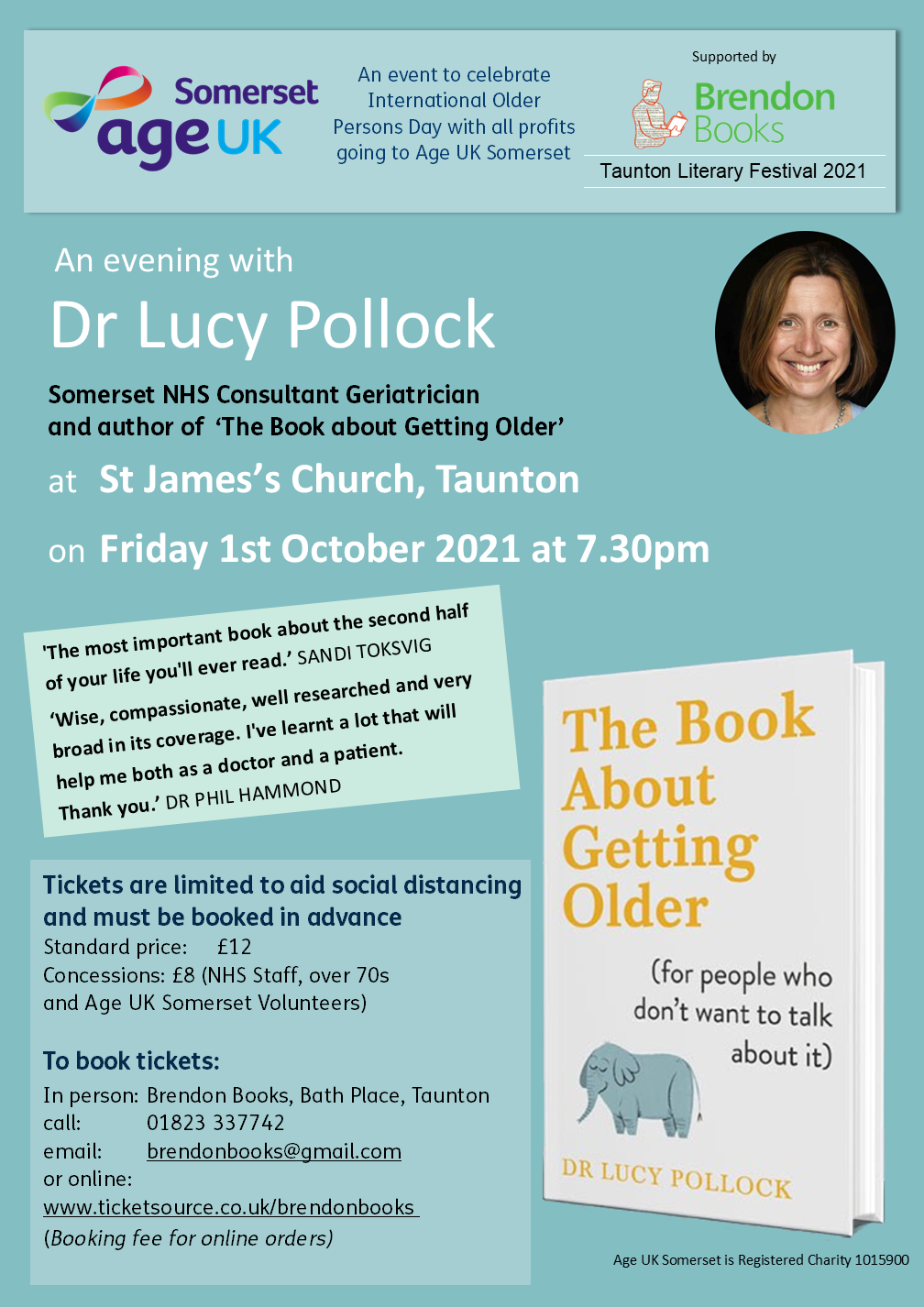 We are delighted that
Dr Lucy Pollock
Author of 'The Book About Getting Older (for people who don't want to talk about it)' and Somerset NHS Consultant Geriatrician
Will be giving a talk at an event to celebrate International Older Persons Day with all profits going to Age UK Somerset supported by Brendon Books Taunton Literary Festival 2021
at St James's Church, Taunton, TA1 1JS

on Friday 1st October 2021 at 7.30pm
Many of us are living to a great age. How do we give those we love, and ourselves, lives that are not only long, but are as happy and healthy as possible?
The Book About Getting Older (for people who don't want to talk about it) gives us answers to both the questions we can voice - and those that we can't.

Questions such as:


How do we ask whether it's worth taking seven different medicines?
Is it normal to find you're falling out of love with someone, as they disappear into dementia?
Should Dad still be driving, and if not, who can stop him?
When does fierce independence become bad behaviour?
How do you navigate near-impossible discussions around resuscitation?
And who decides what happens when we become ill?
A long life should be embraced and celebrated, but it's not all easy. Yet even the most challenging situation can be helped by the right conversation.
Serious, funny, kind, knowledgeable and empowering, this readable book guides us towards the essential conversations about getting older that go straight to the heart of what matters most.
Lucy Pollock trained in medicine at Cambridge and at Bart's Hospital, and worked as a junior doctor in East London before moving to Somerset, where since 2001 she has been a consultant specialising in the care of those who are frail and elderly.
Now more than ever, we need to talk about getting older.
"I was one of those people who didn't want to talk about getting older! But I read this book and I'm so glad I did!"
Come to listen, learn and ask your own questions at our event 'An evening with Dr Lucy Pollock' on Friday 1st October, 7.30pm at St James's Church, Taunton.