From Me to You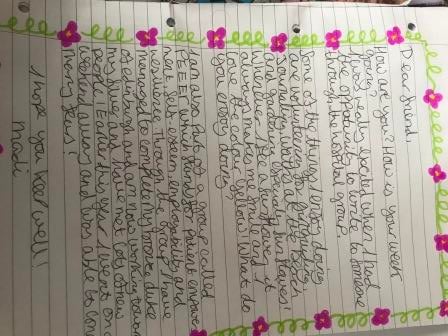 Published on 18 April 2020 10:51 AM
Age UK Southampton has teamed up with Southampton's Children's Hospital's Ready, Steady, Go PEEER Youth project to launch; 'From Me to You'.
As part of the response to the Coronavirus pandemic, the Government has asked everyone in the UK to stay at home. For many of us, this often means we have family around us, but for many older people this is not the case.
Age UK Southampton support many older, vulnerable people across the city who need support, and for many, now forced by to remain at home, they will see no one. Now, children under the care of the Youth Team at Southampton Childrens Hospital will send a little joy and hope 'From Me to You'
This project is an opportunity to reduce this feeling of isolation through a simple letter, poem or even a drawing. Letters will be sent to Age UK and shared within food parcels through an initiative started in partnership with staff at Hampshire Constabulary and supported through donations from local companies and residents.
You can find out more by watching this short video on youtube (opens in new window)
If you can support Age UK Southamptonto continue delivering projects like this during the Coronavirus pandemic, please click DONATE to make a donation