This service is designed to support patients, who have recently been discharged home from hospital. We do this by taking a patient centred, problem solving approach to helping patients get back safely and comfortably to their own homes.

Who is eligible for this service?

Any patient who has been discharged and who does not have access to the support they need to make their return home as safe and comfortable as it needs to be. The service is a finite resource and is not designed to take the place of the support normally provided by family or friends, it is designed to help those patients that do not have any support networks in place.

What does the service actually deliver?
Our officer will ensure that the patient's home is warm and they have everything they need to look after themselves.
The officer will undertake a complete holistic (Compass) assessment.
The officer will then agree with the patient a plan of support to ensure they are kept safe and comfortable for the first period of their convalescence.
The patient will be linked into all the services and support that is available, either directly through Age UK South Lakeland or any one of our Compass in Cumbria partners.

The service is not hidebound by restrictive service definitions, we are there to support and solve problems, if those problems are stopping the patient from being discharged, we want to know. If we cannot help directly, it's likely we know someone who can. If you are aware of issues which may take a little time to resolve please contact us as soon as you know about them rather than wait until the patient is ready to go home.

NB We cannot provide Nursing or Personal care through the service.
What we need from you
We need as much notice as possible to enable us to visit the patient at home as soon as possible after discharge.
The service should only be used for those patients who need post discharge support and have no family or friends to provide that support.
Our Promise

We wholeheartedly respect our NHS colleagues and the fantastic work they do. We will use our every endeavour to work towards the goals of visiting patients as soon as they have been discharged and preventing re-admissions. We sincerely hope that this respect is reciprocated and when using our service, due consideration is given to the "What we need from you" section.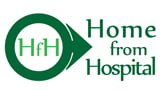 Contact us to find out more
If you have any questions and would like to know more, please feel free to contact us and we would be happy to talk to you further.