Befriending in East Staffordshire
We provide companionship for older people in the East Staffordshire area to help reduce loneliness and isolation.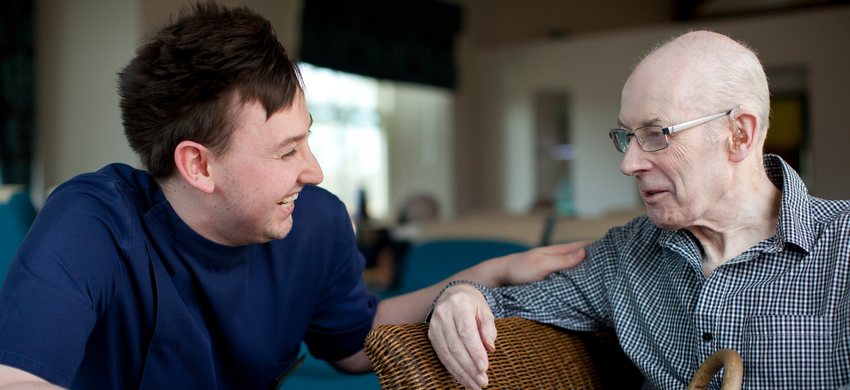 What is befriending?
Befriending means to "act as" or become a friend to someone, especially when they are in need of help or support. Our service offers befriending in-person, over the telephone and through social clubs.
Who is the service for?
Anyone aged over 50 in our local area who feels they would like some regular company, or would benefit from more social interaction. People who benefit from befriending can be male or female, single, widowed, married, retired, working or unemployed.
You could be:
Living alone
Living away from family and friends
Living in a new community after recently moving house
Socially isolated or lonely
Recently bereaved
Caring for someone
Isolated from your immediate community due to physical disability or health issues
Recently out of hospital or experiencing a change in your daily living arrangements
Assessed as benefitting from the service
How does befriending work?
Once a referral is made to us, either by yourself or by someone else, our team will be in contact to discuss and arrange a befriending service that best meets your needs and is available to you. This could be:
Face-to-face befriending: where a volunteer befriender visits an older person in their home, perhaps for a cup of tea and a chat, or accompanies them to an activity (such as a trip to a café or the theatre). In some cases, a volunteer may accompany the older person to occasional hospital or doctor's appointments.
Telephone befriending: where a volunteer befriender will phone an older person at an agreed time for a chat.
Join a social club: where an older person can attend a regular meet up with refreshments, company and activities.
Who can make a referral to the service?
If you're over 50, you can contact us and express your interest. Family, friends, neighbours, colleagues, professionals or other organisations can also make a referral by contacting on the details below.
Why is befriending so important?
Loneliness is a big issue for people in later life in the UK:
3.6m older people in the UK live alone, of whom over 2 million are aged 75+
1.9 million older people often feel ignored or invisible
Loneliness can be as harmful for our health as smoking 15 cigarettes a day
How befriending makes a difference
Not having someone to talk to regularly can be lonely and isolating, particularly if you're used to sharing your home and time with others.
Regular social contact helps us stay connected to the outside world, gives us something to look forward to and can lead to long term friendships.
How to make a referral
Call us to make a referral, or if you have any questions about our service:
01283 510106

No time for a phone call? Drop us a quick email at befriending@ageukburton.org.uk
Be there for a local older person
Whether you're young or old - you could become a volunteer befriender and provide vital company & a friendly chat to a lonely older person near you.