Networking group raises £500 for Age UK Suffolk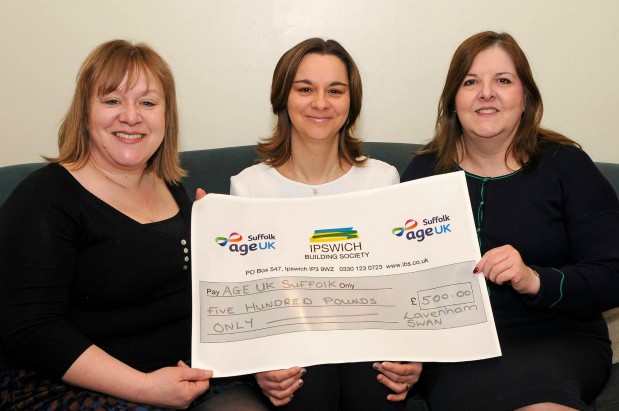 Published on 13 March 2018 03:00 PM
The business networking group at the 15th century Swan at Lavenham Hotel & Spa has raised £500 for Age UK Suffolk.
A cheque was presented to members of the Fundrasing Team Jo Reeder, and Jenny Day.
Some £140 was raised through donations at the monthly networking events, while The Swan donated a further £360.
Following a very successful partnership with Age UK Suffolk over the last two years, The Swan's 'Coffee Connections' networking events will no longer be taking place. Jane Larcombe, Business Development Manager at The Swan said: "Our 'Coffee Connections' events have been very well received again this year, but we've decided to take a break during 2018 and concentrate on new initiatives, to help support Age UK Suffolk. We have welcomed some fascinating speakers during 2017 and we're absolutely delighted to have be able to raise £500 for Age UK Suffolk".
Jo Reeder, Head of Fundraising & Marketing for Age UK Suffolk added, "As a local, independent charity, it's so important to build relationships with local businesses to ensure that we can continue to provide vital services for older people in our county. Our partnership with The Swan has grown over the last two years and we will continue to work with The Swan on some different projects during 2018".

To enquire about ways in which you can support Age UK Suffolk in conjunction with The Swan at Lavenham, please contact: jane.larcombe@theswanatlavenham.co.uk or Jo.Reeder@ageuksuffolk.org


Find out more about fundraising