This year the festive season could be different for us all. At Age UK Sutton we would like to ensure our older community members still have some festive cheer bought to them throughout the season.

In the Summer our Letters of Joy project brought smiles to hundreds of older people living in Sutton. As this was so popular, we are pleased to launch our Christmas Cards of Joy project for the festive season.
Could you help us to bring smiles to older people of Sutton by sending a Christmas card, or a festive letter from a younger person who also lives in Sutton?

If you are a school, please contact us at activities@ageuksutton.org.uk and we can send you out a pack for your pupils.

If you would like to take part as a family or community, please send cards and/or decorated Christmas letters directly to the Age UK Sutton office. You can drop these to our office between 10:00am and 4:00pm Monday to Friday, please put your letters in an enveloped marked Christmas Cards of Joy.

Age UK Sutton is supporting hundreds of older people during coronavirus, many of whom have nobody else, or are desperately missing regular contact with friends, neighbours, and family. These letters will be sent to older people isolating at home, in care homes, and in hospital to bring some cheer in these difficult times. (We have taken advice on how to 'quarantine' the letters to ensure safety for all involved).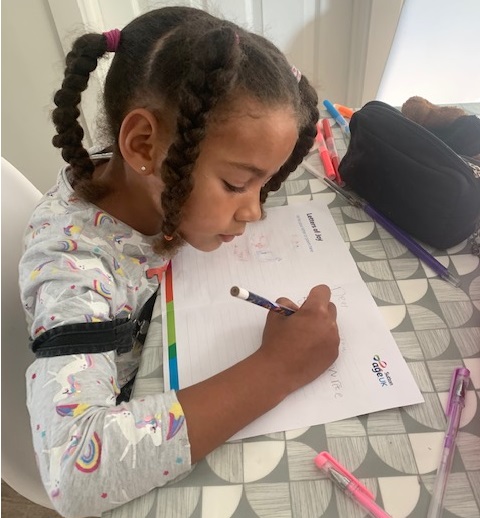 Keeping everyone safe
We are following guidance on safety to ensure everyone is protected. Once your packs arrive at our offices, they will stay here for 3 days before we open them and then send them on to our clients. Our staff are using advised precautions when opening and repacking the letters, as we do with all items delivered to older people. They will then be sent on in the post, or dropped off by our staff and volunteers as they visit older people to deliver food, medication, and to check on wellbeing and welfare.
Please make sure that your cards are with us by 17th Decemeber to allow time for them to be quarantined.
Please send your cards to:
Age UK Sutton
Sutton Gate
1 Carshalton Road
Sutton
SM1 4LE