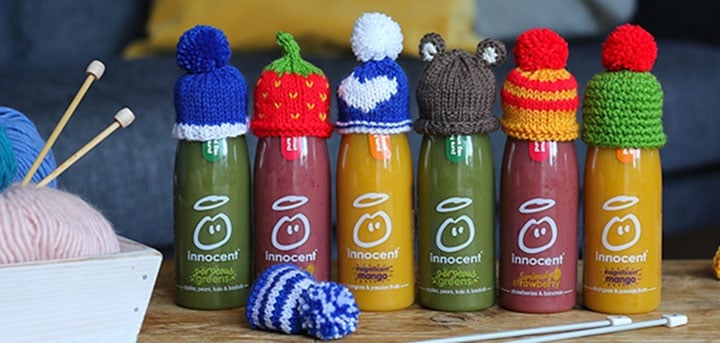 The Big Knit is back!
This time, we're sending 10,000 hats to Fruit Towers, with love from Age UK Sutton!
Sutton - last year, you helped us smash our target, sending almost 4000 hats to Fruit Towers (and in just four months).
This year, we are going even bigger! 10,000 hats - and at 25p for each one we send, we can raise more than £2000 if we meet (more if we beat!) our target. These funds stay here in Sutton, helping us to support older people in our community and make our borough an age-friendly place.
So, it's time to get your Big Knit on! We have until 31 July 2019 (yes, that's right!) to knit, crochet and bobble our way to 10K!
How to get involved
We'd love you to knit lots of lovely little hats for this year's Big Knit and whether you're a knitting novice, a cracking crocheter or a gang of purling pros it couldn't be easier.
Download the hat pattern pack below, make yourself a nice cup of tea, find a comfy chair and knit away! If you would like us to send you a hat pattern pack, please get in touch (contact details below) and we can post it to you.
Hand in your hats
Once your little knitted creations are ready, drop them off or post them to:
Age UK Sutton
Sutton Gate
1 Carshalton Road
Sutton, SM1 4LE
Our Big Knitters are very beloved to us, so don't forget to include your name and contact details so we can send some appreciation your way.
In knitting company
We would love you to join us at our knitting group where we knit and share tips over a cuppa. Purls of Wisdom meets every Thursday from 2.00 PM to 3.30 PM in Sutton. Why not drop-in to our next gathering? More details about the group are here.
For more information about the Big Knit call 020 8915 2233
Email: comms@ageuksutton.org.uk
What is the Big Knit?
The Big Knit is the campaign that Age UK runs in partnership with innocent drinks where we ask you to knit little woolly hats which then go on to their smoothies.
This year, Age UK Sutton has the target of 10,000 hats. We get 25p for every hat we send, and the money we raise from the Big Knit helps us be there for older people who have no one else to turn to – so those little hats really do make a big difference!
Watch Age UK's video to see just how much this means to people like Jean and John
Click here to visit the official Big Knit website for more information about the campaign and even more hat patterns
Other information you may find helpful
Related pages on our website
Related pages on other websites
Hat Knitting patterns
Pack features the following patterns: Stripe hat (beginner) Blue bobble hat (beginner) Apple hat (intermediate) Lion hat (advanced) Dinosaur hat (advanced) Duck hat (advanced crochet) Shark hat (advanced crochet) Pineapple hat (advanced) Post box hat (intermediate) Unicorn hat (advanced crochet) Sombrero hat (intermediate crochet)